Dutch Carnival is here again. In the Netherlands we say Carnaval. Let's all go crazy. Let's get dressed up for an amazing party. Laugh and have fun until we can no more. It is gonna be a great and joyful party. Carnival is the happiest feast of the year.
In the South of the Netherlands everybody, every city and every village celebrates Carnival. So get dressed up, and put on your craziest, most striking, most colorful, most amazing, awesome, cool, and special Carnival outfit. Be ready and join in at a three days crazy Carnival Feast.
Carnival means Dressing up and Saying "Alaaf"
"Alaaf" is the familiar greeting; the way to say "Hello" during Carnival. With the exclamation of "Alaaf" you have to make a movement. Go with the fingertips of your right hand to the left temple and shout Alaaf. Do repeat this three times.
Dutch Carnival is a religious tradition
Originally the Carnival is a religious feast. Nowadays it is mainly celebrated in the south of the Netherlands in the provinces of North Brabant and Limburg but it is also celebrated in smaller villages in the rest of Holland. Carnival is a religious Catholic feast and going to church is part of the feast. Carnival opens in church with a special Carnival service and it ends on Ash Wednesday. After Ash Wednesday starts Lent. The last week of Lent is Holy Week. Lent is a period of six weeks of fasting.
➔ Easter celebration in the Netherlands
Feasting in Brabant and Limburg, the southern provinces of the Netherlands
In Brabant, the carnival is celebrated in a different way than in Limburg. An expert Carnivals celebrator can tell the difference between the two providences. The Limburg carnival celebrant dresses up as beautifully and especially as possible. The carnival celebrant from Brabant puts on a simple farmer's smock and wears a tie or hat in the colors of the city. As a guest Carnival celebrant, it makes no difference, Carnival is joy, a feast, and happiness, so you can wear whatever you like.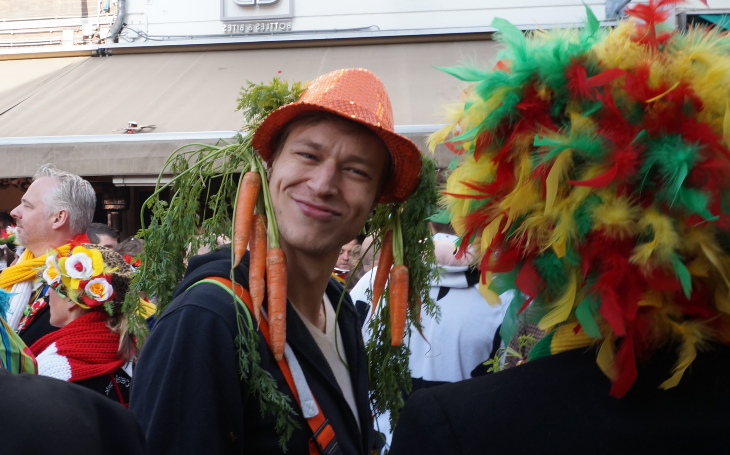 Carnival is togetherness, folk music, singing, and polonaise
Dutch folk music is essential to make Carnival a success. There is an overload of new and old carnival songs. Carnival is a feast where everybody sings and dances and walks together in the polonaise. Have you ever walked in a polonaise? It is an experience that you don't want to miss. A polonaise increases mutual solidarity and togetherness and creates a feeling of joy and happiness. The folk music and singing together reinforce this feeling.

Every year there is a great contest of carnival hit songs. Watch and listen to this year's carnival hits. This year's carnival hit is not yet chosen, so maybe you like to vote as well.
➔ Carnival hit songs yearly election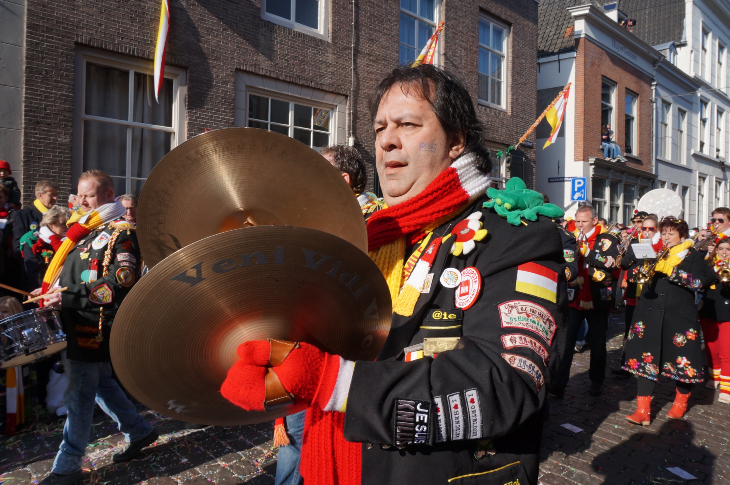 The name of the city changes and a Prince rules the town
During Carnival, many towns and cities have an alternative name, a nickname. For example, the city of s'Hertogenbosch is called "Oeteldonk" and Breda is called "Kielegat". For a foreigner these city and village names are hard to pronounce, you can try but I guess it will sound very funny.
During the three days of Carnival, the Mayor of the city is out of business. At the start of Carnival, the Mayor hands over the city key to Prince Carnival. Prince Carnival governs the city for three days during the carnival.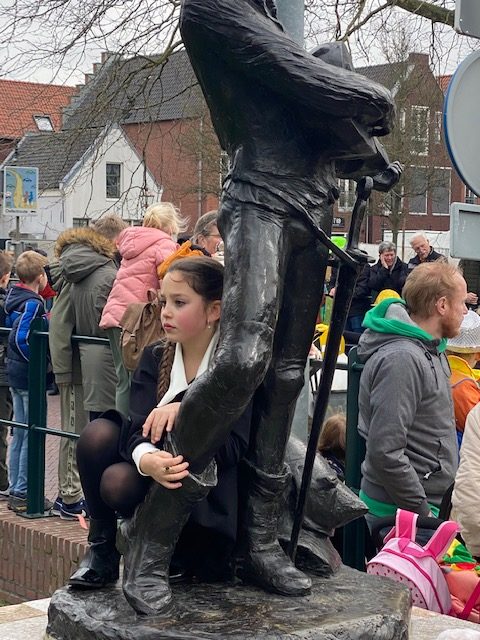 Prince Carnival allows a lot and stimulates all the citizens to dress up, drink, sing, and dance. The prince joins the parade and hops from pub to pub and hangs out in the streets. So put on your most colorful crazy outfit and celebrate Carnival with the Prince
Carnival at Spring Holiday, 2023
Schools have their spring holiday and adults take some days off. So everybody is free to celebrate the Carnival. Originally carnival lasts from Sunday to Tuesday. These days the Carnival lasts all night long. However, in many cities and villages, the Carnival feast starts already on Friday and ends on Ash Wednesday. This year – 2023 – the Carnival starts on Friday, February 17, and ends on Ash Wednesday, February 22.
Carnival Parade
The highlight of Carnival for many people is the carnival parade. Carnival associations have often been working for months to set up a carnival float. These floats are impressive and awesome creations.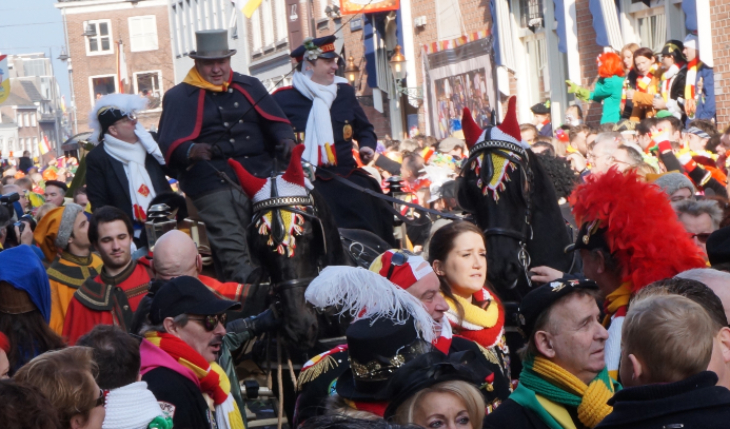 Parties and Festivals
Are you coming to celebrate Carnival with us? Well, here is where the nicest, biggest, coolest, Carnival parties and Carnival festivals are. Just follow the links below. But remember, you have to go to these parties in a Carnival outfit, laugh a lot and dance and walk the polonaise all day and all night long. The "Carnevalfans" have a great agenda that shows all the Carnival festivities.
➔ Carnaval agenda 2023
➔ Carnival agenda Noord Brabant
➔ Carnival festival – DJGuide
Carnival in the rest of the Netherlands
In the middle and north of the Netherlands, a lot of small cities and villages organize carnival parades. For example near Utrecht, the city of Montfoort has quitE a carnival parade. It's an amazing grand parade with lots of awesome floats. In a lot of villages, around Utrecht, the carnival is quite a feast
➔ Overview calendar Carnival floats in the Netherlands
Carnival floating parades contests
Carnival parades often have a theme and it is a competition that has made the most beautiful float. Floats are often owned by a club or association and are built by members. It is a great honor when a float wins. Winning or not winning is a reason to celebrate and we love celebrating for whatever reason.