Creepy creatures, freaky animals, and devil-like figures in imaginative paintings depict religious and moral stories. A nightmare in a horror scenario, terrifying pictures are shown in the work of Hieronymus Bosch. A glance at his work gives you a feeling of the horrors of divine punishment for sins that mankind has committed. If you look good you see the many witty details.
Jeroen Bosch | Hiëronymus of Jheronimus van Ake
Jeroen Bosch, also known as Jeroen van Aken, lived presumably from 1450 to 1516 in the city of 's Hertogenbosch, commonly known as "Den Bosch". This city Den Bosch lies about 90 kilometers south of Amsterdam in the province of North Brabant.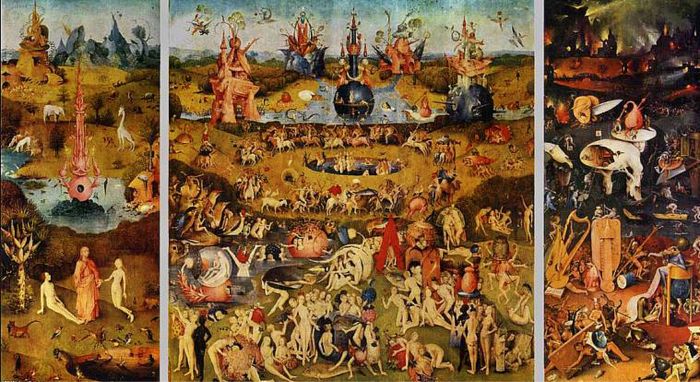 The artwork of Jeroen Bosch is established in the Jheronimus Bosch Art Center in the former Saint Jacob church. His work comes to its best in this Christian location. Jeroen Bosch painted in a typical style, also very special for the time he lived in. Because Jeroen Bosch painted satirical performances he got the nickname "the devilsmaker". Even by living he already was a famous painter and received commissions from the court.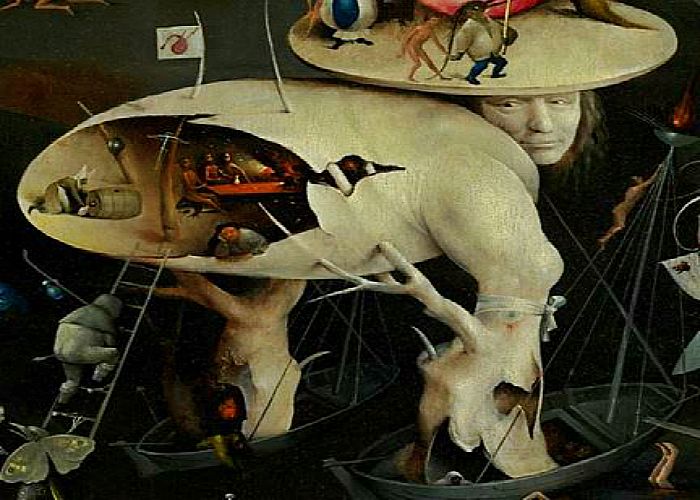 This painter takes you to a world with fabulous creatures, religions, and symbols with deeper meanings. You can imagine how anxious people must have been seeing these crazy performances and turned to the church for help and forgiveness. Even in this time, one should be scared of the world Jeroen Bosch is showing us.
The time Jeroen Bosch lived in was the transition from the Middle Ages to modern times "the Renaissance". These days religion was very important and Jeroen Bosch was a religious man, he was a registered member of the church.
Tuin der lusten / Garden of earthly delights
The painting Garden of Earthly Delights by Hieronymus Bosch is a triptych consisting of 3 panels.
About the life of Jeroen Bosch little is known, he left no letters of dairy and even his specific day of birth is unknown. While much of Bosch's life remains shrouded in mystery, his art continues to captivate audiences with its enigmatic imagery and imaginative themes. He passed away on August 9, 1516, leaving behind a legacy of unique and otherworldly paintings that continue to be studied and admired to this day.
In 2016 was the 500 birthday of Jeroen Bosch. The art center celebrated this event in a special way. The museum organizes exclusive exhibitions that are more than worth visiting.
By train (intercity) from Amsterdam Central Station, it takes about 1 hour to get to Den Bosch.
Jheronimus Bosch Art Center
Address: Jeroen Boschplein, Den Bosch
→ JHeronimus Bosch Art Museum, S'Hertogenbosch
→ Must See Holland, museums