Our Perception of Eindhoven
When we think about the city of Eindhoven we think of soccer, cigars, cars, and light bulbs. The city might be the heart of technical innovation in Holland and is the home of many ex-pats. Important international companies like Philips and ASML are originally from Eindhoven. You find an excellent University here as well. Moreover, Eindhoven has (one of) the best soccer teams in Holland: PSV. And it definitely is the City of Light. Though Eindhoven might be the center of technical innovation in Holland, I miss a convincing display of its achievements in technology. I miss a visitor's center dedicated to technology. The Light Bulb Museum does not convince me. I would like to find in Eindhoven an exhibition of modern technology – e.g. a playground for robots and demonstrations of the possibilities of nanotechnology – but I didn't find it yet.
Van Abbe Museum, modern art in Eindhoven
Eindhoven offers a variety of exhibitions of modern art, an archeological open-air museum, and musea dedicated to the rich industrial past of the city. We recommend the Van Abbe Museum. A museum with an outstanding collection of modern art. We saw Pablo Picasso, Pieter Mondriaan, Wassily Kandinsky, and Claude Monet among others. And I also want to mention a painting by the Dutch surrealist Johannes Hendrikus Moesman.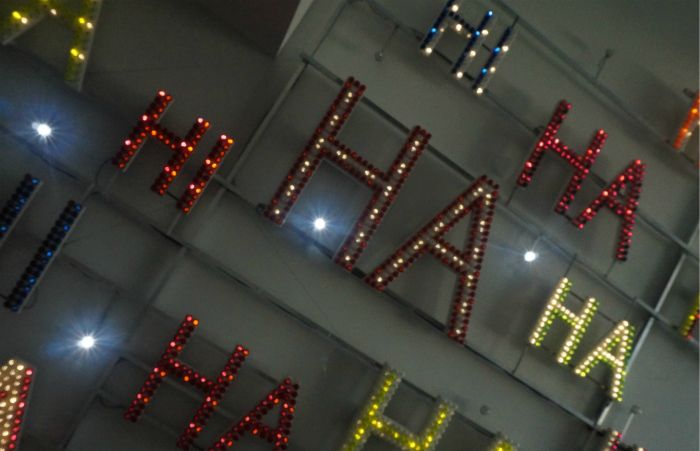 Address: Van Abbemuseum: Bilderdijklaan 10, 5611 NH Eindhoven.
Opening hours: Tuesday till Sunday, from 11.00 till 17.00 hours.
Philips Museum
The Philips Museum is located in the middle of Eindhoven, where Gerard Philips produced his first light bulbs in 1891. The Philips museum tells the history and developments of this innovative technological company. Philips played a major role in social development. First with electric light, household equipment, radio and television, and digital developments.
Address: Philips Museum, Emmasingel 31, 5611 AZ Eindhoven
Opening hours: Tuesday till Sunday, from 11.00 till 17.00 hours
PSV museum and PSV station at Philips station
Address: PSV Museum and PSN Soccer station at Philips Stadion, Frederiklaan 10A, 5616 NH Eindhoven
Opening hours: Tuesday till Saturday, from 11.00 till 17.00 hours
Festivals
Festival Glow – Light festival GLOW Eindhoven
Carnival Eindhoven
During Carnival, the name of the city is changed to "Lampegat". Carnivals is celebrated 40 days before eastern. The name Lampegat has an ironic twist towards the omnipresence in the city of electronics giant Philips. The great Carnival Parade is the start of 4 days of carnival festivity. There are lots of things going on. Dress up and be part of the show and meet the City's "Prince Robert d'n Urste of Lampegat".
From Eindhoven Airport into the City
From Eindhoven Airport (Vliegveld Eindhoven) bus 401 will take you 20 minutes to the City Center. You might jump on a train immediately but Eindhoven can be full of surprises. I think the best time to visit Eindhoven is during the Glow festival and the Carnivals. Glow transforms Eindhoven into the City of Light. The City becomes the decorum of light sculptures. During Carnival, the name of the city is changed to "Lampegat". I love the Glow Festival in November which is also related to the presence of Philips. A company that nowadays though is a market leader in medical technology and does not produce light bulbs anymore.