In the Netherlands, there is a well-known theater group "De Parade," which is a traveling theater festival that visits various cities in the Netherlands during the summer. The Parade features a diverse program of theater, music, dance, and other performances in a unique and festive setting. Parade Travelling Theater Festival is unique in the World, there is no other theater festival that can be compared to this, it is special and unique.
Travelling Theater Festival
The festival is known for its tents and carousels, creating an intimate and vibrant atmosphere where audiences can enjoy a wide range of artistic experiences. Performances vary from traditional theater plays to experimental pieces, and from comedy to more serious dramas.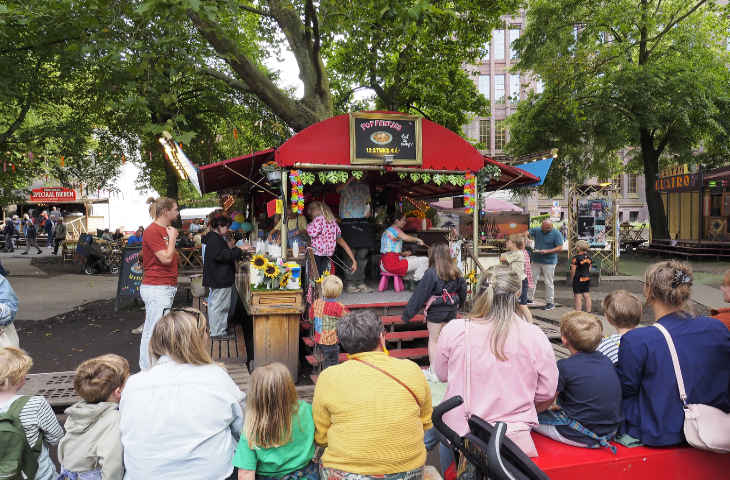 De Parade has been a popular cultural event in the Netherlands, attracting both locals and tourists and offering a platform for emerging artists as well as established performers.
Every summer we look forward to the moment when the traveling theater festival "De Parade" starts traveling around the Netherlands again. In the month of June, the Parade strikes down in the city center of one of the big cities to celebrate a fantastic theater festival. After two weeks the Parade breaks up and travels to the next city where they start all over again with their great performances.
De Parade is run by a great group of enthusiastic entertaining artists. They perform in amazing great theater tents. One of the attractions is a very special merry-go-round and a silent disco. On the festival grounds are several nice restaurants and terraces. The Parade strikes down for a short period of two weeks in the city center of Eindhoven, The Hague/Den Haag, Utrecht, and Amsterdam.
Data 2023
EINDHOVEN – Friday 23 June until Sunday 2 July
DEN HAAG – Friday 7 July until Sunday 23 July
UTRECHT – Friday 28 July t/m Sunday 13 August
AMSTERDAM – Friday 18 August till Sunday 3 September
The Parade is a summer theater festival event that lasts this year, in 2023, from June 23 to September 3.
During de Parade, around 80 different theater, dance, mime, and music performances are presented for audiences of all ages in theater tents. Each performance has an average duration of 30 minutes, allowing you to easily enjoy two, three, or even four shows in one evening. But the Parade offers much more than just captivating performances. Treat your taste buds with a wide array of delicious food and make sure to visit the famous swing ride that graces the heart of the venue, providing an exhilarating experience for all. As night falls, the Silent Disco invites you to dance the night away and you'll have the pleasure of enjoying a different band performing every night.