Japan Light and food festival
Japanese ghost paradise in Utrecht. This winter the temporary Japanese Light & Food Festival is in Utrecht. On this light spectacle you will find a silent disco, karaoke, LED artworks, stalls with fresh sushi, ramen and Japanese tea and of course the illuminated cherry blossoms. If you like light festivals and good food, this festival is definitely worth a visit. Japanse Light festival Utrecht
China Lights festival
The Chinese Light festival is regularly organized in the Netherlands. From 9 December 2022 till 5 March 2023 you can admire this great China light festival in Emmen and Ouwehands Zoo. Hopefully, the Chinese light festival will continue to organize light festivals in our country because we absolutely love China Lights.
Some years ago there was and light- and lantern exhibition of China Lights in Utrecht. With 90.000 visitors the event was a commercial success. This beautiful China lights festival was organized in the Botanic garden of the Science park, at the University of Utrecht where there were dozens of light sculptures to see.
Oriental light art
The technique to make light sculptures is an oriental art form that exists for thousands of years. The materials to make a lantern are a combination of willow, rice paper, wood glue, bamboo and iron wire. The most fantastic works of art are made with these materials.
Magical Forest
When the evening falls and you walk along with the beautiful artwork it feels like walking through a magical forest. It is a beautiful event for young and old. Everybody loves this spectacular light event.
Dragons and beyond
Dragons, giraffes, birds, everything is possible, it is beyond your imagination. Gigantic and high-light artworks. It is all mystical, a magical experience where you are enchanted along the way.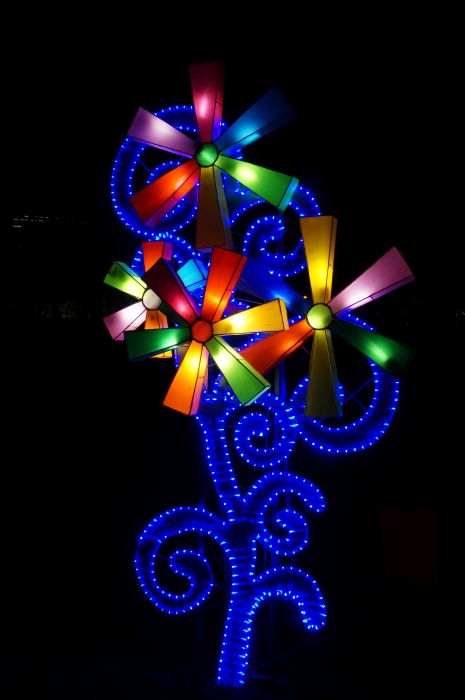 Culture
Chinese lanterns are more than a thousand years part of Chinese culture. Over the years they evolved gradually in the most wonderful beautiful shapes. The lantern festival is a traditional Chinese festival. The Chinese New Year ends with this festival. It happens on the 15th day of the new year in the Chinese calendar. On this day people eat Tangyuan in sugar soup and families hang lanterns in front of their doors. In addition to China, this festival is also celebrated in Taiwan, Korea, and Japan. In the Netherlands, the Chinese New Year is traditionally exuberantly celebrated in The Hague with a parade and fireworks.
Making a light lantern or sculpture
Wouldn't it be fantastic to make your own light art or lantern? Look at this video and go for it!
Wouldn't it be fantastic to make your own light art or lantern? Look at this video and go for it! What do you need to make such a fabulous lantern: iron wire, willow, bamboo, rice paper, and wood glue?
We loved this very special China Light event and hope they soon come back to Holland.