Street Art, Graffiti, Murals, and 3D paintings and their artists.
Street Art and Graffiti
You can't ignore it, whether you love it or loathe it, you see Street Art or Graffiti all over the world. Street Art is an art form related to the graffiti movement. Street Art includes various illegally or legally applied art expressions on the public road that do not fall under pure graffiti and also do not belong to official art.
Street Art and Graffiti famous artists
Almost everyone knows the Street Art of Banksy, the English Street Art artist, but nobody knows Banksy himself. You can almost say that everyone has seen something of Banksy's work. Banksy created his own signature with the red balloon and for that reason alone. He sometimes includes objects that already exist on his chosen 'canvas,' such as street signs and fire hydrants, to turn his work into striking Street Art installations, his work is world famous and worth millions. Banksy paints and draws his work secretly. The impact of Street Art on art, fashion, design, advertising, and popular culture is greater than ever before.

Other well-known and world-famous street and graffiti artists are:
Keith Haring who recently deceased was an American artist. Keith made modern art, pop art, and graffiti art. His work is notable for its cartoon-like paintings, his drawings were about AIDS, drugs, and apartheid, among other things.
Blek le rat (Xavier Prou) is a Frenchman and one of the first graffiti artists who started his artistic career in 1980 by painting rats.
Graffiti artists, especially those who work illegally, do not want to make themselves known. Graffiti artists do not use their own name, but work under an alias, a pseudonym by which they become known.
Professional Street Art and Graffiti artist, muralist, and graphic designer
From graffiti to art, advertising, and marketing-related work. In the visual field, graffiti has many interfaces with illustrators, the advertising industry, and traditional sign painting. The right graffiti can definitely add added value to restaurants, discotheques, catering companies, institutions, and commercial buildings.
Graffiti artists use Graffiti and Street Art to express themselves. Graffiti has evolved into a legitimate art form in the last few years, with a growing number of galleries showing and selling traditional graffiti art and hosting graffiti exhibits and shows for audiences around the world.

A muralist paints murals, typically large paintings that are applied to the outside of buildings. These murals are often used for decoration or as advertisement, but some muralists also choose to paint them from a personal artistic perspective. In many ways, muralists can be considered Street Art artists.
Street Art and Graffiti material
In addition to spray paint, graffiti artists also use other materials such as stickers, posters, stencils, markers, airbrushes, oil-based chalk, all kinds of paint, and all kinds of other materials that come available.
Street Art and Graffiti terms
Graffiti is a collective term for images or texts that have been applied in the street or in another more or less public place with paint or paint pen.
Tag is a small drawing, often used by graffiti artists to show that the artwork created is theirs. In fact, it is a kind of signature.
Throw Up is a large elaborated tag, using 1 or 2 colors. The throw-up is seen as the simplest graffiti drawing.
Piece is a large graffiti painting, this is one of the largest forms of graffiti. A piece can cover an entire wall and usually consists of many different colors.
Doodling are scribbles and small drawings on walls and other objects.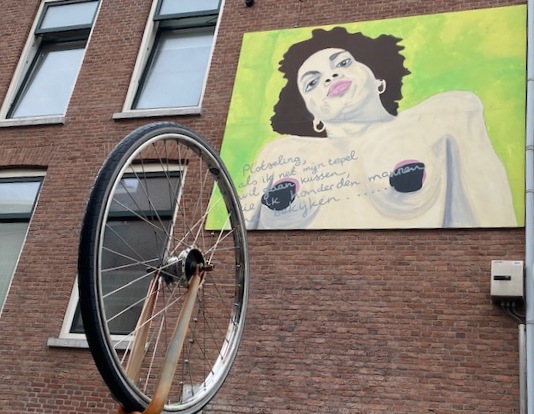 Street art and graffiti can make a wall without meaning and place which makes people think and stop to discover the meaning behind the painting.
Graffiti and Street Art: Art or vandalism
Graffiti can often be seen on public buildings, private property, and exterior walls of train cars and bridges and is often associated with breaking the law. This is not always true. There is a legal distinction between illegal Graffiti, Graffiti Art, and Street Art and that is "consent". If a graffiti artist spends hours creating a beautiful piece of art on the side of a building he doesn't own but doesn't bother drawing up an agreement in advance with the right people, it will likely be considered vandalism or criminal mischief in a court of law. When that same artist contacts the building owner, tells them what they want to do, and drafts an agreement, they suddenly express themselves in one of the purest forms of art in existence today.
Street Art in the Netherlands
In the Netherlands, there are very cool and amazing Street Art artists. Some of them have done such wonderful work. These street Art artists are true artists who are not inferior to many well-known painters. Street Art is part of the street scene. You will find Street Art and Graffiti everywhere, on buildings, in tunnels, and on objects. Sometimes Street Art is part of the scene. The artist uses what is offered to him. Nowadays a lot of Street Art is commissioned. Street Art and Graffiti, you can love it or loathe it, but many of these paintings are true art objects.
Museum, expositions, and Street Art events
Museum STRAAT, Street Art museum at NDSM in Amsterdam
In Amsterdam Noord on the NDSM site, in an immense former ship shed of 8000 m2, you will find STRAAT, the Graffiti, and Street Art museum. In this museum, you can admire 150 huge Street Art works made by 130 artists. Some of these works of art were created in the museum. The entire collection is much bigger but not continuously exhibited, the artwork rotates. The museum strives for a national and international collection. STRAAT museum offers an educational tour where questions will be answered if possible. In 2021 the STRAAT | Street Art museum was called the museum of the year.
Address: STRAAT Street Art museum, NDSM-Plein 1, 1033 WC Amsterdam
Outdoor Art De Berenkuil, Eindhoven
STEP in de Arena is an annual graffiti festival in Eindhoven. The place of the festival is the tunnels of the traffic circle on the Insulindeplein located on the Berenkuil. Step in the Arena is a large graffiti festival. About 150 graffiti artists produce the most beautiful, exciting, creative works of art during the annual street Art festival in order to provide the Berenkuil with new graffiti. This graffiti will be preserved for a year, after which new graffiti will be created at the new festival. In 2022 the festival was organized on the first weekend of June.
Step in de Arena, Eindhoven
3D Street Painting
World Street 3D painting contest, Apeldoorn, Arnhem, and Rotterdam
The best artists come from all over the world to the World Street Painting Festival to create LIVE 3D street paintings on the streets of Apeldoorn Arnhem and Rotterdam. At the World Street Painting festival, art is created right in front of you on the street. It's like magic to see depth, height, and movement arise in a drawing
3D artworks, people, and Street Art come together. You can view the 3D Street Paintings in Rotterdam until October 31, 2022.
Apeldoorn: 30 June till 3 July
Arnhem: 7 till 10 July
Rotterdam: 14 till 17 July
Every city has a kids contest in September
Street Paintings can be viewed 24/7 until October 31, 2022.
Street Painting 3D festival, Apeldoorn | Arnhem | Rotterdam
3D street art festival Rotterdam
3D Street Art in Joure, Frysian by Rianne te Kaat
The village of Joure, Frysian will be proud of Rianne te Kaat, she made this year no less than 4 mighty beautiful 3D Street Art paintings for this village. For many years Rianne had a passion for drawing and painting and this is reflected in her work. She has made several Street art paintings in the Netherlands, Belgium, and Germany. Her street Art pops up in the most unexpected places. Rianne provides Street Art and 3D workshop, so if you are interested please contact her.
3D artist Rianne te Kaat
Dutch Street Art and Graffiti artists
De Verfdokter, freely translated you can read this as "The Paint Doctor". De Verfdokter makes inside and outside murals. Whether on a garden wall, children's room, or on the side wall of a towering side wall of a flat. The paint doctor has 20 years of experience in making graffiti and murals. De Verfdokter also makes a mural or interior painting on commission, in consultation everything is impossible. These paintings are mainly done with brush and brush. executed.
Instagram: https://www.instagram.com/verfdokter
JanIsDeMan, freely translated into "Jan Is The Man".
JanIsDeMan is a graffiti artist and mural painter. JanIsDeMan is a pseudonym, he is mainly active in and around Utrecht but you can find his work also in a lot of other Dutch cities. Jan paints gigantic bookcases, children's drawings, fruit, a colossal container ship, and many many other things. Jan is known nationally and internationally. One of his most famous works is the bookcase. Jan painted bookcases in Utrecht, London, and Boulogne Sur Mer. Jan is socially engaged and does not shy away from confrontation.
De Strakke Hand, is freely translated into " the tight touch".
De Strakke Hand is a Dutch painting collective of artists that joined forces to paint huge murals in the urban landscape. A mural is often the result of cooperation with many parties involved. To strive for the best results they have a highly qualified project manager, the finest designers, and a bunch of the best painters you can imagine. They have more than 15 years of experience to share with you and they are the best at large-scale reproductions of museum master paintings.
2018 was the year of Caravaggio, Utrecht celebrated this in a special way. For this occasion, the city council of Utrecht has given the strict order to create a work by Caravaggio. The result is more than fantastic. The painting of the sleeping watchman is gigantic, realistic, and absolutely great.
STREET ART CYCLING AND WALKING ROUTES
Street Art routes Rotterdam
The West-Kruiskade area is in fact THE Rotterdam Street Art Museum. On the West-Kruiskade, on some side streets and adjacent streets, you will find murals created by highly renowned national and international Street Art artists. The Street Art Museum is an open-air museum that is open 24 hours a day.
Street Art Route Rotterdam
Street Art Den Bosch | 's Hertogenbosch | Hometown of Jeroen Bosch
Street Art cycling and walking route in Utrecht