How nice is it to unpack your souvenirs when you get home from your wonderful trip through the Netherlands? The easiest way to get your lovely souvenirs at home is to order them online and send them to your home address. This way it saves you from packing in your suitcase saves you carrying it and saves travel weight. the best products of the Netherlands. Check out Dutch gadgets! "Where Tradition Meets Innovation!"
Dutch gadgets, fancy delights, cuties, and collector's items

Step into a world of Dutch pride and heritage with our incredible collection of iconic products. From the majestic Dutch flag to the Delfts Blue vases, delightful gadgets, and treasured collector items, we bring you the best of Dutch culture right at your fingertips! Join us on this cultural journey where every product has a story to tell, this is where craftsmanship and innovation meet. So whether you're a Dutch enthusiast or simply appreciate the beauty of Dutch culture, these products are sure to captivate your heart.
Drop, the black sweetness of the Netherlands
What can we tell you about drop? Drop is a sweet, salted, or sweet/salted Dutch candy you must taste once in a life time. Dutch candy "drop" refers to licorice confectionery that comes in both sweet and salted varieties. It's a popular treat in the Netherlands, enjoyed for its distinctive flavor and chewy texture. Sweet drops are typically flavored with a mix of licorice and other ingredients, while salted drops have a stronger licorice taste with a hint of salinity. They hold cultural significance and are often consumed in various shapes and forms throughout the country. In The Netherlands almost everybody loves drop.
➔ Drop, read all about Drop! in our Must See Holland blog
➔ Drop,.Do you like to taste some Dutch Drop? Here is you're chance to get your own Drop at Bol.com!
Delicious and outraged Dutch Pampering packet
Dutch pamper package. Make you're own Dutch package and send it by post to your home address. A typical Dutch treats package can contain licorice, stroopwafels, a pot of pickled herring, a post of sweet and sour pickles, Edam cheese, Gouda cheese or Goat cheese, poffertjes, a Zeeuwse bolus, an Unox sausage and a pack of Dutch Erwtensoep. This package contains the most delicious Dutch delicacies with all those typical Dutch flavors to enjoy when you return home.
➔ Send your package by Post.nl
Maybe you fancy some other Dutch gadgets like KarnemelksMeisje, at typical Dutch soap, or an Dutch umbrella, raincoat of clogs?
➔ Soap Canal Houses Amsterdam, you can order them by Bol.com
Dutch Flag, a Dutch souvenir and collector's item
The Dutch flag is vibrant and eye-catching, it's a tricolor beauty that represents the Netherlands in all its glory. Imagine this: three bold horizontal stripes, each with its unique hue. At the top, a radiant royal red bursts forth, symbolizing the valor and courage of the Dutch people. Below it, a serene snow-white strip stands for purity and peace, creating a stunning contrast. But wait, there's more! The bottom stripe is a captivating cobalt blue, epitomizing loyalty and justice. Put together, these vivid colors form a flag that's as rich in history as it is in charm. So next time you're strolling through the charming streets of Amsterdam or cycling along the picturesque canals, keep an eye out for this striking tricolor, and let it remind you of the Dutch spirit – bold, peaceful, and true!
➔ Dutch National Flag 🇳🇱, buy your original National Dutch flag with or without the orange pennant at Bol.com.
The rainbow flag, LGBT or an LGBTQIA flag
The rainbow flag has 6 colors that symbolize the global diversity of gays and lesbians. Added to the rainbow flag is a triangle with the colors of the transgender flag, white, pink, and light blue, and the brown and black bands. To symbolize Intersex a yellow purple triangle with a ring is added to the rainbow flag in the middle.

LGBTQIA+ is an evolving acronym. LGBTQIA stands for lesbian, gay, bisexual, transgender, queer/questioning, intersex, and asexual. Many other terms, such as non-binary and pansexual that's been used to describe how people experience their gender, sexuality, and physiological sex characteristics.
➔ LGBTQIA flag 🏳️‍🌈, buy the original Dutch LGBTQIA flag 🏳️‍🌈 at Bol.com
➔ LGBT flag 🏳️‍🌈, buy the original Dutch LGBT flag 🏳️‍🌈 at Bol.com
Gay Pride Amsterdam, Pride Rainbow – Dutch gadgets
For an impression of the Dutch Gay Pride Week Amsterdam, read ➔ Must See Holland Gay Pride. Pride festival is a major event to celebrate and accept the LGBTQIA community and is celebrated in several cities in the Netherlands. An overview of all the Pride events: ➔ Prides Network the Netherlands
Orange T-shirts and other gadgets to wear on Kingsday and other festive days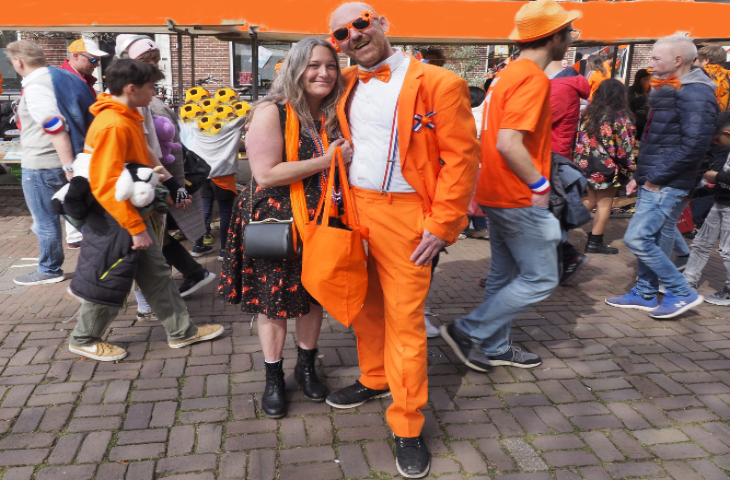 Wearing an orange shirt and orange sunglass during Kingsday is the way the Dutch people show their national pride, solidarity, and joyous spirit. The streets come alive with colorful celebrations, parties, and various activities, creating an atmosphere of togetherness and fun. In a sea of vibrant orange, locals and visitors alike join in the festivities, making Kingsday a true spectacle of national pride and celebration. So, wearing an orange shirt during this special occasion is not just a fashion choice, but a cherished tradition that embodies the essence of Dutch identity and collective happiness.
➔ An original Dutch Orange T-shirt 🧡, be one with the Dutch, and wear an orange shirt. Buy your orange T-shirt here.
Delfts Bleu a Dutch souvenir
Delft Blue, also known as Delftware or Delft pottery, is a type of ceramic earthenware that originated in the city of Delft in the Netherlands during the 17th century. It is famous for its distinct blue and white designs, often depicting scenes of Dutch landscapes, windmills, floral patterns, and historical motifs.

Delft Blue souvenirs have become popular among tourists visiting the Netherlands. Many Dutch stores and shops in city centers and in tourist areas offer Delft Blue products as keepsakes for visitors.
➔ Delfts Blue, beautiful Delfts Bleu articles can be find on Bol.com online store
➔ Museum Royal Blue, Delft
Bol.com is Dutch biggest online store
Bol.com is the largest online store in the Netherlands. Create an account to enjoy their wide range of products and services. If you are currently in the Netherlands, Bol.com offers speedy delivery, with most orders arriving within 24 hours. You can choose to have your items delivered to a collection point or directly to your hotel for added convenience. Bol.com is great to get yourself some lovely Dutch gadgets.
➔ Bol.com online store still doesn't communicate in English but the website is easy to work with. Experience the seamless shopping experience with Bol.com, whether you are in the Netherlands or anywhere else in the world." Even if you are abroad, Bol.com extends its delivery services to many countries, making it possible for you to receive your desired products no matter where you are located.