Delfts Blue used to be very popular in Dutch Households, but like wooden shoes, and how beautiful they may be, Delfts Blue is something from the past. Great to collect but not to be used in daily use.
Delft Blue, also known as Delftware or Delft pottery, is a type of ceramic earthenware that originated in the city of Delft in the Netherlands during the 17th century. It is famous for its distinct blue and white designs, often depicting scenes of Dutch landscapes, windmills, floral patterns, and historical motifs.
Museum Royal Delft
Museum Royal Delft, also known as Koninklijke Porceleyne Fles, is a famous ceramics museum located in Delft. The museum is renowned for its rich history and production of iconic Delftware, a distinctive blue and white pottery that dates back to the 17th century. The museum showcases an impressive collection of Delftware pieces, including vases, plates, tiles, and other decorative objects. Visitors can learn about the traditional craftsmanship involved in creating these exquisite pieces and explore the evolution of Delftware through various historical periods. Museum Royal Delft offers guided tours and workshops, allowing visitors to witness skilled artisans creating hand-painted ceramics and gain insight into the intricate process. Overall, the museum provides a captivating experience for those interested in Dutch pottery, art, and cultural heritage.
➔ Museum Royal Delft, Royal Rotterdamseweg 196, 2628 AR Delft
Delfts Blue and why it is called like that
Delftware, also known as Delfts blue, is a type of pottery that originated in the city of Delft in the Netherlands during the 17th century. The name "Delfts blue" comes from the city of Delft, where this style of pottery was first produced.
The term "blue" is added to the name because Delftware is often characterized by its blue and white designs. The blue color in Delftware was influenced by the popularity of Chinese porcelain in Europe at the time, particularly the blue-and-white porcelain produced during the Ming Dynasty in China. Dutch potters tried to imitate this style and began producing their own version of blue and white pottery, which eventually became known as Delftware or Delfts blue.
Delftware became highly sought after and exported throughout Europe, and it remains an iconic style of pottery to this day. The name "Delfts blue" is a homage to its city of origin and its distinctive blue color.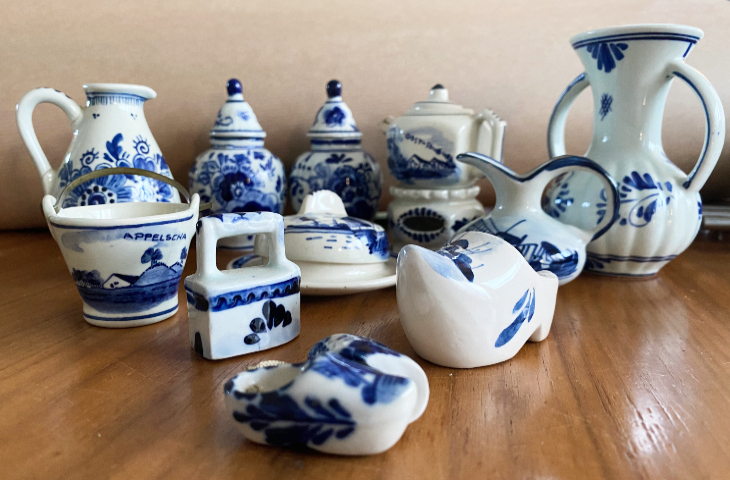 What else is there to know about Delfts Blue?
History: Delft Blue pottery was inspired by the Chinese porcelain imported by the Dutch East India Company. To meet the demand for this luxury item, Dutch potters started to imitate Chinese blue and white porcelain, leading to the creation of Delftware.
Distinctive Blue and White Colors: Delft Blue pieces are characterized by their iconic blue and white color palette, achieved through the use of cobalt oxide glaze. The glaze gives the pieces a shiny and smooth surface.
Hand-painted: Traditional Delft Blue pieces are hand-painted by skilled artisans, making each item unique and adding to their artistic value.
Collectibles: Delft Blue articles are highly sought after by collectors worldwide due to their historical significance and exquisite craftsmanship.
Functional and Decorative Items: Delft Blue products include a wide range of items, such as plates, vases, figurines, tiles, jugs, bowls, and more. These pieces can serve both functional purposes and be displayed as decorative art.
Where to buy Delfts Blue?
As for where to buy Delft Blue articles, you can find them in various places:
The Netherlands: Delftware is readily available in specialty shops, antique stores, and souvenir shops throughout the Netherlands, particularly in cities like Delft and Amsterdam.
Online Retailers: Many online platforms offer Delft Blue products for sale. Websites like the Dutch online store Bol.com offers a wide selection of Delftware.
Specialty Stores: In the City center of Delft you will find a lot of specialty stores dedicated to Dutch Delfts Blue products.
Antique Markets: If you're interested in authentic vintage pieces or collector's items, you can check out antique markets and auctions, where Delft Blue items might be available.
➔ NSDM Fleamarket, Amsterdam
When purchasing Delft Blue articles, it's essential to ensure their authenticity and quality. Look for reputable sellers and examine the craftsmanship and glaze for signs of genuine Delftware. Additionally, keep in mind that prices can vary depending on the item's age, rarity, and intricacy of the design.
➔ Delfts Bleu, beautiful handpainted and fabric Delfts Bleu articles for sale at Bol.com
Delfts Bleu, painting Workshop and Masterclass
Isn't this great? At Heinen Delfts Blue factory it is possible to follow a workshop or masterclass painting. Here you can learn to paint your own Delfts Bleu vast. The Heinen Delfts Bleu factory is well-known and has more than 1300 Delft Bleu articles.
➔ Delfts Blue, Painting Workshop and Masterclass at the Heinen Delfts Blue
Delfts Blue souvenirs
Delft Blue souvenirs have become popular among tourists visiting the Netherlands. Many Dutch stores and shops in city centers and in tourist areas offer Delft Blue products as keepsakes for visitors.
In summary, Delft Blue is an integral part of Dutch cultural heritage and a beloved tradition in Dutch households. Its historical significance, iconic designs, and craftsmanship have made it an enduring symbol of Dutch culture worldwide