Movies, foreign movies, or movies from abroad
Everyone loves to go to the movies, especially for the big releases, "kaskraker" so we say in dutch. But also blockbusters, tent pole movies, low-budget movies, film house movies, and arthouse movies attract a large audience. In the Netherlands, we like all kinds of movies, Dutch movies as well as foreign movies. Foreign movies are shown with subtitles. Children's movies are, till a certain age, dubbed. For the older ones, original foreign movies are played with subtitles.
Where to see a movie
Cinemas and movie theaters can be found in large and smaller cities. In villages, you will often find a clubhouse or community center where you can watch a movie.

Where do you prefer to look at movies? In a cinema on a big screen with fantastic Dolby sound or at home on your TV via a streaming service such as Netflix, Video land, HBS, or Disneyland. Or do you like to look at movies on your laptop, tablet, or mobile? But maybe you watch movies through all systems, it just depends on where and who you are with.
Movie theater and how to find them
Pathé, movie agenda
Sign in and get your ticket. Pathé cinemas are in all Dutch cities but the one you don't want to miss is the Royal Theater Tuschinski in Amsterdam. The authoritative British magazine Time Out has named Pathé Tuschinski the most beautiful cinema in the world.

Expats Night. Every third Thursday of the month Pathé shows a Dutch or foreign movie with English subtitles. As an expat you can join an expat group and get in touch with other expats and movie lovers? Join the meetup page. Afterward, everybody is welcome to have a drink, catch up and chat about the movie in our Pathé Café. We Get your tickets @ https://www.pathe.nl/expatnight
Kinepolis cinema
Kinepolis cinema can be found in many Dutch cities and this cinema shows a variety of movies. Kinepolis a modern cinema with large and small halls with spacious seats, large screens, and great sound. Some Kinepolis cinemas have the new spectacular Dolby Atmos sound system. Register on the website and order tickets online or install the app and arrange your ticket.
Movie meter | Movie agenda
On the website of Moviemeter, you will find a complete overview of all cinemas in the Netherlands. Both the large cinemas such as Pathé and Kinepolis are listed here, as also the smaller film houses. Moviemeter has an extensive up-to-date website. Open a link to a cinema and you will find the address including Google maps, an overview of the films that are playing, and the possibility to order a ticket online.
Golden Calf – Dutch Grand Award for movies, actors, and moviemakers
Since the first edition of the Netherlands Film Festival in 1981, the Golden Calf, the Grand Prize of Dutch Film, has been awarded annually to the best Dutch filmmakers, screenwriters, producers, and actors. A large group of colleagues selects the winners. The nominations and winners of the Golden Calves for feature films and feature-length documentaries are determined according to the Academy model. A large group of colleagues selects the winners. In addition, there is a golden calf audience award. There are awards for multiple categories. The awards will be presented at the beginning of October in Utrecht during the Golden Calf Gala.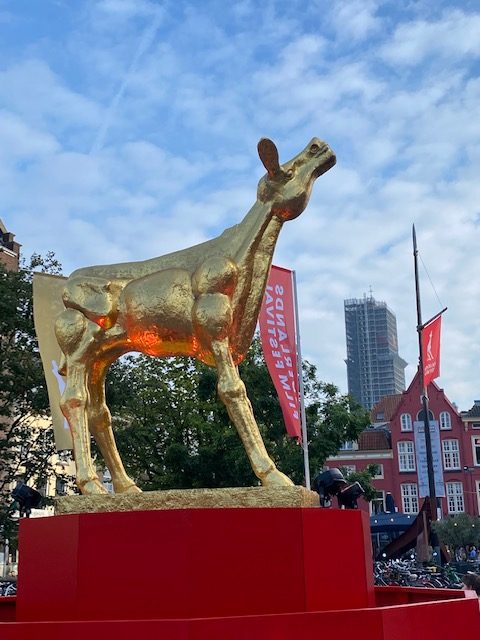 Over the years, quite a few good Dutch films have been made in the Netherlands. These films were not always made with famous actors and usually, there was not a huge budget available. Well-known Dutch film directors with blockbusters to their name include Dick Maas, Martin Koolhoven, Paul Verhoeven, and Alex van Warmerdam. Several of these films made by these directors have been nominated for an Oscar. Given the Dutch film history and the diversity of genres, it is almost impossible to compile the top 10 best and most successful Dutch films but we will give it a try. Several Dutch movies with English subtitles can be found on Netflix.
Top 10 best Dutch Movies
Zwartboek | Black Book | 2006
Director Paul Verhoeven
Actors: Carice van Houten | Sebastian Koch |
A film that is both amazing and terrifying and one that you will remember for a long time! This film gives an insight into the other side of the second world war. Not just about the resistance heroes but also the people who were on the 'wrong' side and also about German soldiers who duty under the penalty of death. Heroism and fear go hand in hand in this film! Definitely worth a look! The movie Black Book has English subtitles.
Turks Fruit | Turkisch Delight | 1973
Director Paul Verhoeven
Actors: Rutger Hauer and Moniek van der Ven
This touching love story is based on the bestseller of the same name by Jan Wolkers. The main character, young sculptor Erik, has a turbulent love life until he meets his great love Olga. They marry against the wishes of Olga's wealthy parents. Totally in love, they don't mind all the opposition and experience a fantastic, romantic summer.
Turkish Delight is spoken in Dutch and has English subtitles.Turkish.
Under construction