Travel guides that lead you through Holland
In my opinion, the best way to visit a country is to have a good travel guide. The fun of visiting a country is to prepare yourself at home and read about all the beautiful and exciting things you are going to see during your trip. My favorite travel guide is a Lonely Planet guide. For The Netherland, there are three Lonely Planet available. The Netherlands, Amsterdam, and Dutch Phrases. The lonely Planet The Netherlands comes along with a map of Amsterdam.
If you are interested in our languages maybe you like the Dutch Phrases book. Dutch and English are closely related, both being members of the Germanic family of languages. When one hears Dutch, one feels one ought to be able to understand it.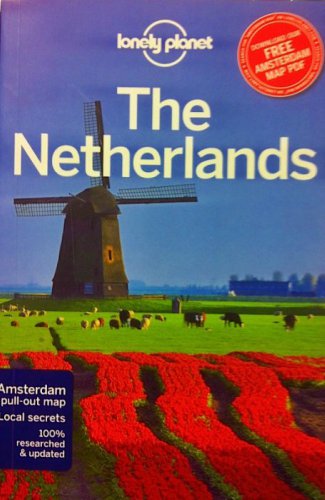 Travel guides that get you around Holland
The edition Western Europe has a chapter about the Netherlands. In all the Lonely Planet travel guides you can read about highlights of our country, the best hotels and restaurants, musea and many more interesting things. And while you visit our country make a trip to our beautiful neighbors Belgium and Luxembourg, both worth the effort to pay a visit.
The UnDutchables is an expression that is devised by the author's Colin White (United Kingdom) and Laurie Boucke (USA). The UnDutchables contains an observation of the Netherlands, its culture, and its inhabitants. This book is available in English, Dutch and is also translated into traditional Chinese (荷蘭不唬爛).
Travel guides that help to survive Holland
If you are looking for a book where you can learn everything about social and cultural aspects of The Netherlands, "Dutch, I presume" is the book to get. Read about the best-known Dutch features and stereotypes, from windmills to Cruijff and from Rembrandt to the typical toilet. Are our clogs and the famous cheese slicer really Dutch inventions? How come some Dutch masters went bankrupt in the tulip trade? And why have most Dutch never heard of the world-famous Hans Brinker? He saved Holland by putting his finger in the dike, you know. Providing the facts and unraveling the myths, the book: "Dutch, I Presume", gives you the essentials of living in the polders and will even help you survive a Dutch birthday party.
Verliefd op Nederland | In love with the Netherlands
This Dutch book is dedicated to the most special places to be found in the Netherlands. Beautiful pictures and descriptions of places in the Netherlands that ask to be visited. From adventurous nature where it is bursting with wildlife to special accommodations where you would like to spend the night. In 'In Love with the Netherlands' you will find world-famous highlights, cultural hotspots, cool cities, beautiful boat trips, good restaurants, and wonderful beaches.