The Dutch bake the best fries in the world. We are known as the greatest potato eaters. Vincent van Gogh already painted his "Potato Eaters" during the potato famine of 1885. A masterpiece depicting people looking like potatoes. During the Second World War, the Germans confiscated all potatoes. There were only flower bulbs left to eat. Such a nightmare. Nowadays the Dutch, living in vast prosperity, still love fries. We eat "Fries with Mayonnaise" from paper bags and we call that "Een Patat Met".

Bake the best golden Dutch fries in your own kitchen
I like to share my way of baking fresh fries. It's super easy, everyone can do it. Follow my recipe and create healthy food, fresh, and fat-free. The taste of my fries is more than delicious. Fries are the tastiest dish to make from potatoes. Who doesn't love tasty crispy golden yellow fried fries? You can get fries at the snack bar or bake frozen fries yourself. But the best fries are freshly made. And, guess what, you can make fresh fries easily at home. It's almost no work, anyone can do it. You don't even need a "fresh fries cutter".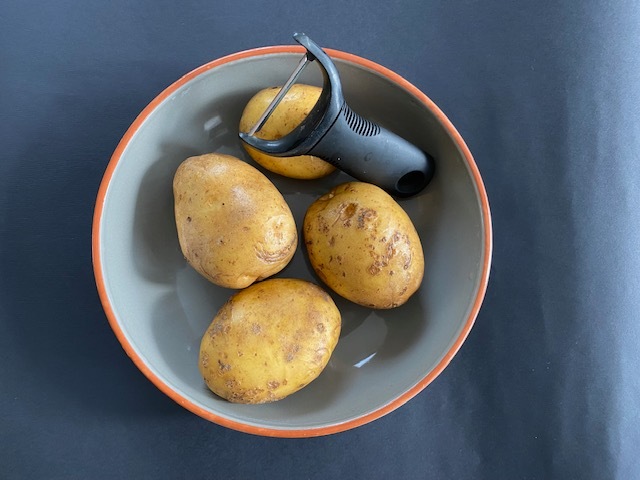 Best Dutch potatoes to make crispy fries
The best potato to make fries are floury potatoes but you can also take a waxy potato. I prefer the potato race "Frieslander". But other potato brands like Doré, Biltstar, Eigenheimer, Irene, Malta, Nicola, and Opperdoes also give great results. About every potato brand is something nice to tell, but actually, I like them all more or less so for me it is senseless to compliment any potato.
Ingredients for best fresh Dutch fries
1 or 2 potatoes a person
Olive oil
Kitchen tools for peeling and cutting potatoes
Peeler and knife
Air Fryer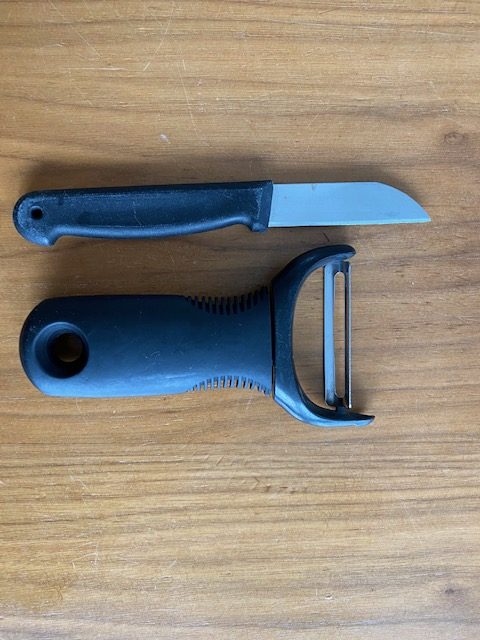 Preparation of creation of fresh fries
Start with 3 medium potatoes, if you only have small ones no problem, if you only have large potatoes no problem either. So you just use the potatoes you have. I like fries without skin but if you like fries with the skin on, do leave it on. My advice: peel the potatoes with a peeler.
Slice the peeled potatoes in half and slice the halves into parts about 1 cm wide. If you think they are still too big slice them again. Wash the sliced potatoes and leave them in cold water for half an hour. If you make fresh fries, it is important to let the cut potato stand in cold water for half an hour so starch dissolves in the water and remains in the potatoes to a lesser extent. If you skip this step fries might get burned. And it is so unhealthy to eat burned food.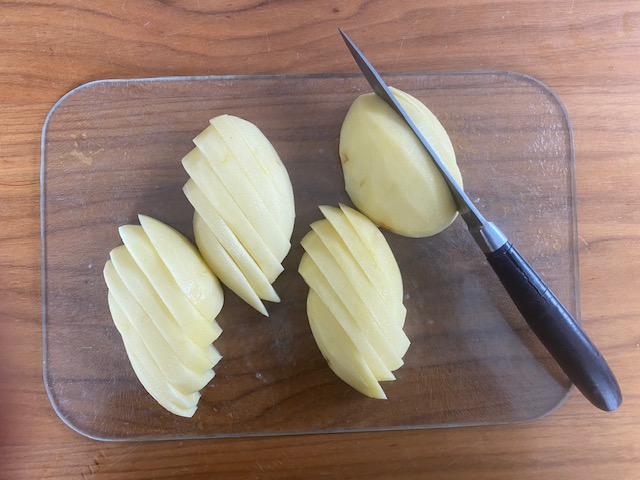 Baking the fries in olive oil in an Air Fryer
After half an hour dry the potato slices very well and put them in a bowl. Pour some olive oil over the sliced potatoes and stir them well so all the slices are covered with a thin layer of oil.
Scoop the fries into the air fryer basket and shake the fries again so the oil is evenly distributed. If necessary pour some more oil over the fries and shake them once again. Set the air fryer to 2000 degrees and 20 minutes. I don't heat the air fryer in advance. I put the basket right in the air fryer and the baking starts. After 5 minutes shake the fries and after 10 minutes shake them again. Shake the fries again after 15 minutes and look if the fries start to look golden brown. Some fries are ready after 15 minutes but depending on the brand you got, some potatoes need a little bit more time to bake. Serve the fries with a nice sauce like mayonnaise.
Belgians and Dutch eat fries with mayonnaise Americans prefer ketchup
Fries are best eaten with mayonnaise, tomato ketchup, apple sauce, satay sauce, picalilli, or Jopi sauce.
For me, fries don't need salt. Usually, the sauces are salty enough. Too much salt is unhealthy. Try to avoid that. My favorite mayonnaise is the authentic Dutch Zaanse mayonnaise.