Straight, gay, bi, lesbian, queer, pansexual, transsexual, or asexual? You Must See the Gay Pride Event. This event is usually on the last weekend in July or the first weekend in August. The Gay Pride Amsterdam is a big feast to enjoy by everyone, regardless of your sexual preference. But let there be no doubt about the gay pride event, it is a celebration for and organized by gay. The absolute high lite you do not want to miss is the Canal Parade on Saturday.
➔ PROGRAM PRIDE AMSTERDAM, STARTING TUESDAY AUGUSTUS 1 UNTIL SUNDAY AUGUST 6TH.
World Gay Pride is celebrated in 2026 in Amsterdam
In 2000 World Pride was for the first time organized and celebrated in Rome, in 2012 in London, in 2014 in Toronto, and in 2019 in New York. In 2026 World Pride will be celebrated in Amsterdam. It will be the first time World Pride comes to the Netherlands. 2026 is the 25th anniversary of the opening of civil marriage to same-sex couples, the Netherlands was the first country where this was possible.
➔ World Pride Amsterdam 2026
Gay Pride Amsterdam, everybody is welcome, so don't miss it
Gay Pride Amsterdam yearly starts in the first week of August. The highlight of this colorful show is the cheerful Boat Parade. Pride Amsterdam is an incredible experience you wouldn't want to miss, and here are seven reasons why:
Embrace Diversity: Pride Amsterdam is a celebration of diversity, acceptance, and love. It's a unique opportunity to meet people from different walks of life, cultures, and backgrounds. By being part of this event, you'll open yourself up to new perspectives and forge connections with individuals who share the same values of inclusivity.
Unforgettable Atmosphere: The atmosphere during Pride Amsterdam is simply electric! The entire city comes alive with vibrant colors, music, and dancing. It's a joyous carnival where everyone feels accepted and free to be themselves. You'll be swept up in the infectious energy and positive vibes all around.
Cultural Enrichment: Pride Amsterdam is not just a party; it's a cultural experience that showcases the history and struggles of the LGBTQ+ community. You'll have the opportunity to learn about their journey for equal rights and the milestones they've achieved. It's a chance to gain a deeper understanding of human rights and social progress.
Supporting Equality: By attending Pride Amsterdam, you'll show your support for equality and acceptance for all individuals, regardless of their sexual orientation or gender identity. Your presence becomes a symbol of solidarity, helping to promote positive change in the world.
Art, Performances, and Entertainment: Pride events are renowned for their fantastic displays of creativity and art. You'll witness spectacular parades, captivating performances, and artistic expressions that celebrate love, freedom, and diversity. It's a feast for the eyes and a celebration of human expression.
Exploring Amsterdam: Besides the Pride events, Amsterdam itself is a beautiful city with a rich history, stunning architecture, and picturesque canals. You can take this opportunity to explore its famous museums, vibrant neighborhoods, and delicious cuisine.
Creating Lasting Memories: Attending Pride Amsterdam will create memories that you'll cherish for a lifetime. The connections you make, the joy you experience, and the sense of unity will leave a lasting impact on your heart.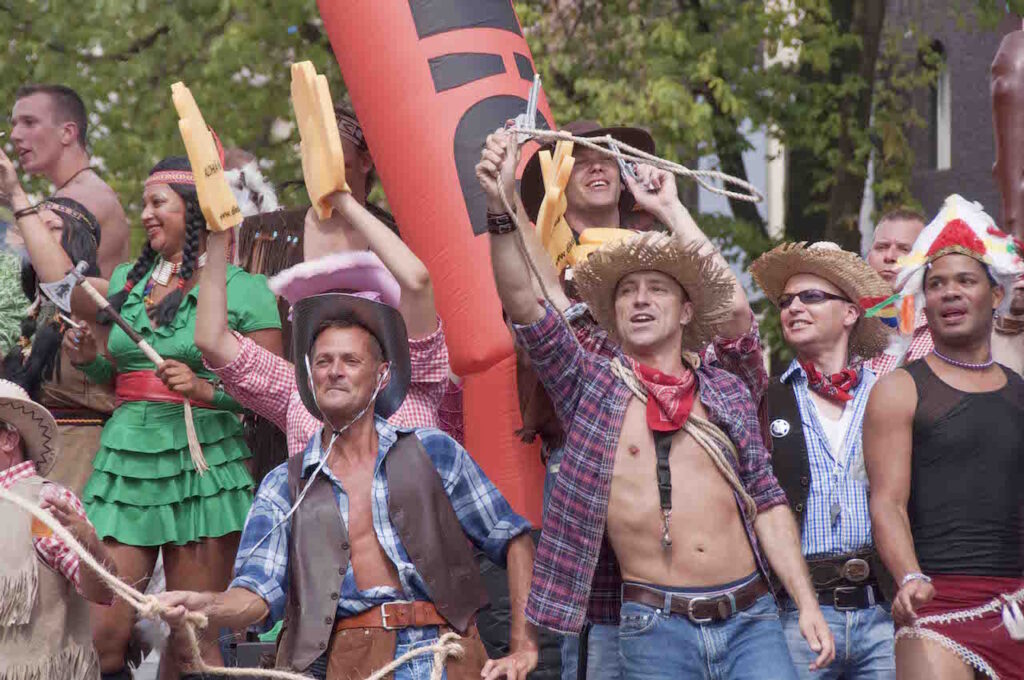 Colorful Gay Pride Amsterdam Canal Parade
Amsterdam Gay Pride Canal Parade is a colorful procession of boats sailing through the canals. The Canal Parade starts at 1.30 pm at the beginning of the Prinsengracht at the Westerdok harbor. At the end of the Prinsengracht, the parade turns to the Amstel River, passing the famous white Skinny Bridge (Magere Brug) and passing the Stadshuis/Muziektheater to make a right in the direction of the Oosterdok.
Gay Pride is on the first weekend of August, the highlight is the Gay Pride Canal Parade on Saturday.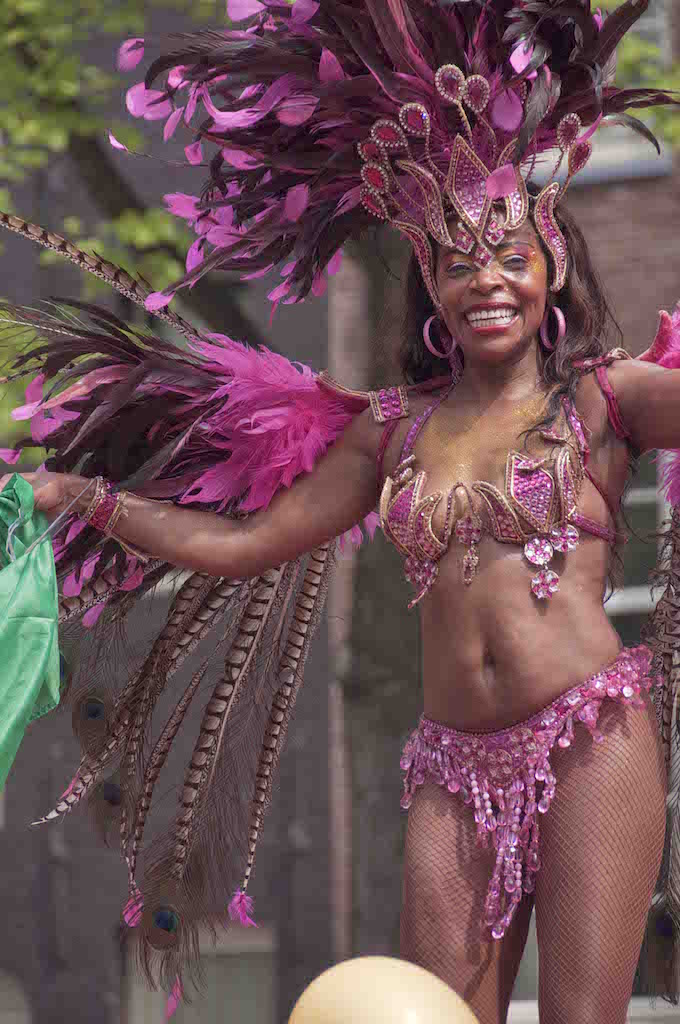 Gay Pride Amsterdam: Canal Parade culminates in a Nightly Street Party
The main gay events and parties all take place in the center of Amsterdam. Friday starts the first real big Gay street party night of the Pride weekend at the Reguliersdwarsstraat (Young / trendy) and Amstel (Popular / Dutch), the central Rembrandtplein and Paardenstraat (Women). The Friday popular party for guys who like to dance and cruise is (Z)Onderbroek, which stands for Without Pants. This is a very popular weekly underwear party in Club Church.
➔ (Z)Onderbroek, drop your pants and dance, Amsterdam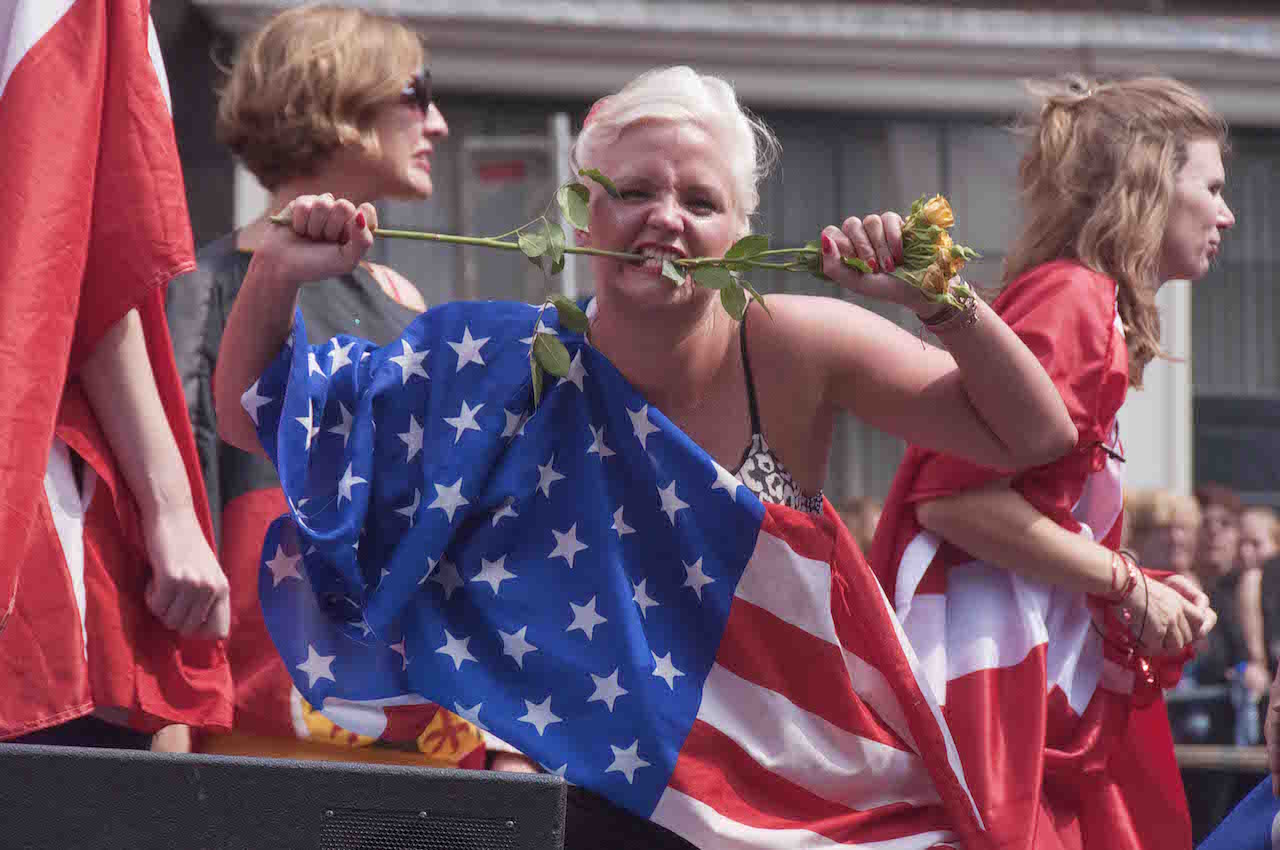 Gay Pride Amsterdam Canal Parade: Drag Queen Olympics
Don't miss the hilarious Drag Queen Olympics at Homomonument on the Westermarkt. The Drag Queen Olympics are the world's premier Drag Queen sporting affair with events including the Handbag Throw, the 100m Stiletto Sprint, and the Tug-of-War. Last year's competition saw 26 ladies from all corners of the globe come to compete in the Dutch Capital, with many world records shattered. Drag Queen competitors wanting to take part can turn up Friday, July 31st from 5 pm at the Homomonument with wig and heels, the Games begin at 7 pm. Qualified beauticians will be available at the Games to assist competitors and to be on hand for any cosmetic emergency.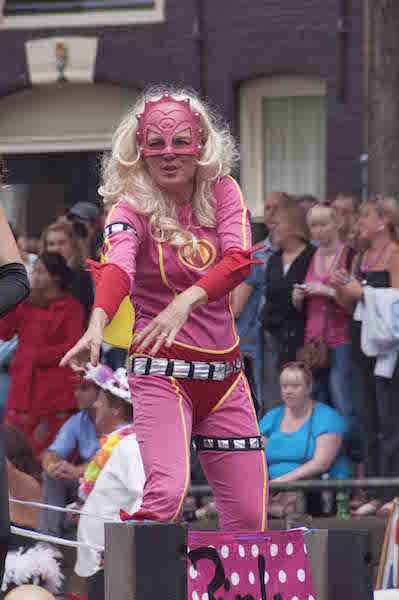 Must See the Homo Monument
The Homomonument is on Westermarkt and was designed to "inspire and support lesbians and gays in their struggle against denial, oppression, and discrimination." It was the first monument in the world to commemorate gays and lesbians who were killed by the Nazis.
➔ HOMOMONUMENT Amsterdam, Westermarkt
Museums, art galleries, debates, readings, movies, theaters, and concerts
Most museums and art galleries will organize special exhibitions with a gay and lesbian theme. You can also visit many debate and reading sessions and special concerts. Several cinemas and theaters bring gay movies and theater productions. Outside at the Nieuw Markt, a gay movie is shown outside.
Gay Pride Amsterdam at Artis Zoo
During the Gay Pride festivities, Artis Zoo organizes daily tours where specialists will show you gay animals at the zoo.
The Amsterdam Gay Pride is a festive event, held annually since 1996 during the first weekend of August.
➔ The Gay Pride, check here the program / online agenda.
Gay Pride Amsterdam is a unique, unforgettable, loving, and excellent event
Remember, as a traveler, you have a unique chance to experience and appreciate different cultures and celebrations. Pride Amsterdam is an excellent opportunity to do just that while supporting a cause that promotes love and acceptance. So pack your bags, open your heart, and get ready to be part of an unforgettable celebration of love and diversity!
➔ Check out the BOL.com, Special Pride Rainbow offers, if you like to collect some Dutch Pride Rainbow Articles.