Ah, the Oudewater Witch's Scale, an intriguing place steeped in mystery and history! If you're wondering when someone is considered a witch, then you should visit this historic Witch Scale in the village of Oudewater.
Museum Heksenwaag | Witch Scale of Oudewater
Let's take you on an enchanting journey into the past. Oudewater, a picturesque town in the Green Heart of the Netherlands, is known for its unique Heksenwaag. In ancient times, when superstition and magic played a major role, it was not uncommon to accuse women of witchcraft.
Imagine: it is the 16th or 17th century, a period of great unrest and fear of the supernatural. Women who were different could soon be labeled "witches" simply for going their own way or using medicinal herbs. To protect these innocent women against persecution, the Oudewater Heksenwaag was established.
The historic Witch Scale of the beautiful Village of Oudewater
Here comes the special part: in Oudewater it was believed that witches were weightless, as they could levitate through magic and their weight could not be measured by normal scales. So, to save innocent women from a horrific fate, they were weighed at the Heksenwaag. If they turned out to weigh like mere mortals, they were cleared of witchcraft and could move on with their lives without fear. Fortunately, most of the women weighed here were acquitted and protected from further prosecution.
Oudewater, a lovely historic village
Today the Oudewater Heksenwaag is seen as a fascinating piece of history and a symbol of human folly and superstition. The city of Oudewater is proud to embrace this past and welcome visitors to discover the unique concept of weighing witches.
The Persecution of Witches in the Netherlands
In the Netherlands, as in many other European countries, witch trials took place in the late Middle Ages and early modern period, between the 16th and 17th centuries. It was a time when superstition and fear of the supernatural were rampant and women perceived as different or wayward were at risk of being accused of witchcraft.
So, if you're wondering when someone was a witch in the context of the Oudewater Witches' scale, the answer is clear: it was a period of uncertainty and misconception when women who were perceived as "different" innocently suffered the accusations of witchcraft. A visit to the Oudewater Heksenwaag now offers a chance to experience this intriguing piece of history and reflect on how far we've come since those superstitious days.
Even in these days, when it is proven by you're weight that you are no witch you will receive an official document.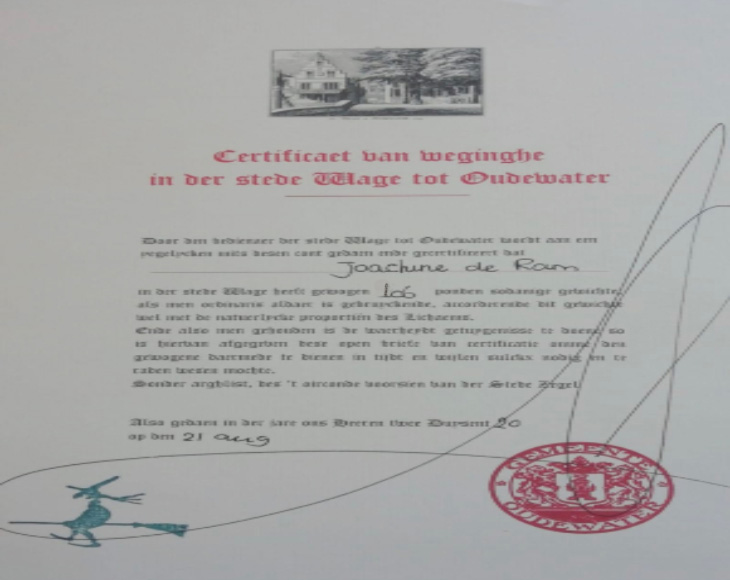 Where to find this famous Witch Scale?
You will find the famous witch scale in the Museum HeksenWaag in the small village of Oudewater. The village of Oudewater is near the city of Gouda, between Utrecht and Rotterdam.
In Oudewater is no train station so you have to go there by bus or by car.
If you go there by public transport it is wise to go check your travel route via Google Maps.
If you go by bus ask the bus driver, he or she will let you know when you get to Oudewater.
➔ Museum Heksenwaag, Leeuweringenstraat 2, Oudewater
How to get to the village of Oudewater?
Join this enchanting journey and discover the wonders of Oudewater, where history and magic come together!