There are a lot of hotels in Amsterdam, ranging from simple rooms with low prices to luxurious suites with more expensive prices. I like to show you some extraordinary special hotels that are located in Amsterdam.
Eye-catching & fancy hotels: Fletcher Hotel A2 Amsterdam

Address: Schepenbergweg 50, Amsterdam
When I ride the highway into Amsterdam I pass this beautiful hotel with its great looks. I love to stay here one time and experience the round rooms. Fletcher Hotel Amsterdam is a luxurious 4-star hotel. Prices are around 100 euro's a night including breakfast, luxurious rooms are a little bit more expensive.
Eyecatching & fancy hotels: Botel – IJ Amsterdam
Address: NDSM shipyard, Amsterdam
How to get there: It only takes a short boat trip to take you to the NDSM shipyard. Behind the Central Station, you find the free Ferry GVB nr. 52 that brings you to Botel Amsterdam.
The Amstel Botel is a modern and luxurious floating hotel, with inexpensive prices. The Botel is located on a romantic spot, imagine yourself having breakfast whit this great view over the river IJ. The nice and friendly staff are always willing to help you. The Botel has 175 comfortable rooms with private bathrooms, a cozy breakfast restaurant, a bar with TV, a pool table, and a pinball jukebox, I recommend this hotel, especially because it has a good price and the location is on NDSM shipyard.
Eyecatching & fancy hotels: Amstel hotel
Address: Professor Tulpplein 1, Amsterdam
For those who love luxury, grandeur, and residential warmth? Stay in the intercontinental historical Amstel hotel. The 55 guest rooms and 24 suites are exquisitely furnished with an elegant blend of classic, homely and modern comfort. There is a Michelin-starred restaurant with a view over the Amstel River, a lounge with beautiful crystal chandeliers, and a large heated indoor pool. The hotel is located near the financial, cultural, and shopping areas. Rijksmuseum, Van Gogh museum and Hermitage are within walking distance. The grand theatre Carre is almost next door. If you want to make a reservation think of prices around 500 euros a room. celebrities love this hotel, so don't be shocked if you see somebody famous.
Eye-catching & fancy hotels: Kraanhotel – Crane 13 hotel
Faralda Amsterdam NDSM Crane Hotel
Address: NDSM-Plein 78, Amsterdam
How to get there: Take the free NDSM- ferry and walk to the hotel. You will find the ferry at the back of the central station in Amsterdam. The NDSM yard is located on the banks of the IJ in the North of Amsterdam. When you are standing behind the central station look to the left across the water you will see on the horizon the NDSM sanctuary.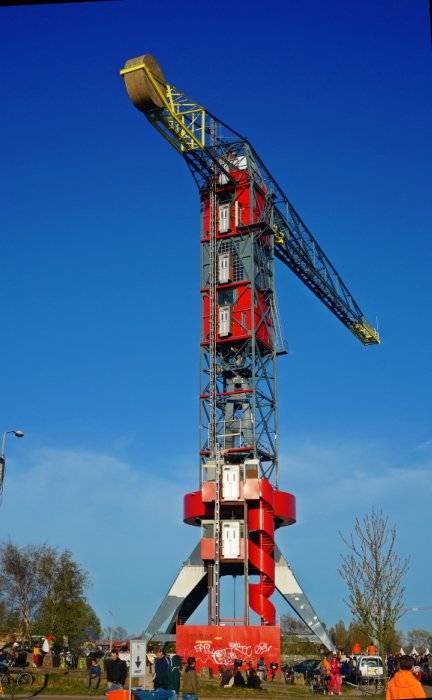 This hotel is located in the impressive historical ship crane called "Kraan 13", it is a real eye-catcher. There are three luxuriously furnished suites created at 35 and 50 meters heights. All three suites offer a magnificent view over Amsterdam and the IJ. For total relaxation enjoy a jacuzzi at a height of 50 meters. For this extraordinary hotel you'll have to reach deep into your pocket, one night cost about 435 euros. Crane 13 is the only remaining crane in the NDSM shipyard. The NDSM yard is located in one of the nicest places in Amsterdam. If you like things to be a little bit different than the ordinary its a great place to be. In this old shipyard, there are about 100 creative companies and businesses in their self-built workshops.
Eye-catching & fancy hotels: Hostel Vondelpark, Amsterdam
Address: Zandpad 5, Amsterdam
If you want to stay in this hostel make sure you book in time, every year over 75.000 guests from all over the world stay here. Don't need to say how popular this hostel is. Stayokay Amsterdam Vondelpark is one of the largest and most up-to-date hostels in Europe. It has a unique location in the middle of the famous Vondelpark – a stone's throw from the city's shopping streets, museums, and vibrant nightlife. This hostel has private rooms as well as dorms for bigger groups.