In the historical city center of Utrecht, you can walk tracks along two amazing Light Shows. Let me tell you more about these events. We are talking about the event "Trajectum Lumen" and the light show "I light You".
➔ Trajectum Lumen – Tale of Light Utrecht
➔ I Light U – Homecoming – Train Station area Utrecht
Light shows in and around the historical center of Utrecht
Trajectum Lumen is a Tale of Light told on dark winter nights in the City of Utrecht. A tale not in words but told in lights shining on the route to take on an evening walk along artistically lightened hotspots and objects through the historic Centre of the City. Trajectum Lumen presents 25 artworks of light from domestic and foreign artists. Moreover, students from the University of Arts in Utrecht contributed. Just follow the track along the light art from sundown till midnight. You do not need a ticket. When the night falls you'll be even more amazed by the beauty of historic Utrecht.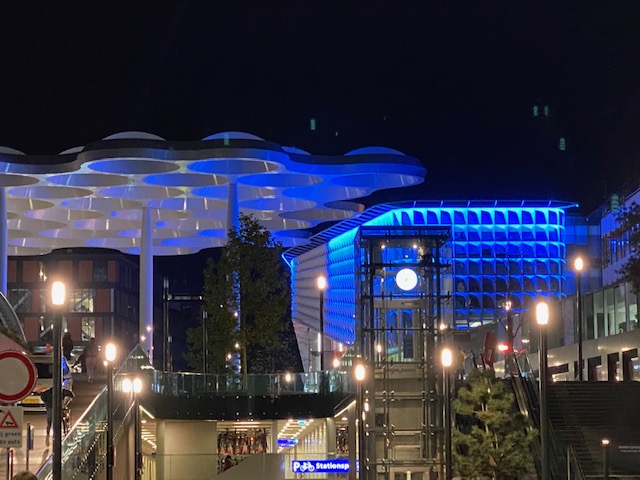 I LIGHT U – Art light exposition Utrecht from 6 till 29 January 2023
In and around the shopping mall Hoog Catharijne, Utrecht Central Train/Bus Station, and the big event location Jaarbeurs Utrecht, there is in and outside a great exhibition of light objects made by national and international light artists. The theme of this lightart exposition is "Home Coming". Walk along this lightart exposition for free, getting around the Central Station area you will see all these amazing light objects.
➔ Utrecht – I LIGHT U – Map 2023
Utrecht Lumen light – City guided tour
The best time to make this beautiful City walk tour is on a Saturday and combine it with a visit to the Domplein. This tour is under the guidance of a local guide, it takes about 1,5 hours and starts in front of the Tourist Information Centre on Domplein and ends on the Mariaplaats. Book your tour online or buy your ticket at the Tourist Information Centre, Domplein 9 in Utrecht. Open daily from 10.00 AM till 5.00 PM. This tour will only cost you € 9,75 per person and is an absolute must-do so put it on your bucket list.
➔ Book here the Utrecht – Lumen light artwork guided tour
Follow the signs and walk without a guide
You can walk this City walk also without a guide. It's easier with the map you find here.
But you can also follow the orange light arrows incorporated into the sidewalks, they will lead you through the historic center of Utrecht and guide you on the route of Trajectum Lumen.
Special points are marked with a blue light.
Trajectum Lumen: special lights shine on the historical buildings and architectural locations. You will find them off the beaten track and at surprising places.
The City Walk starts at Domplein by the VVV – Tourist Information Centre
1. Domstraat: Marking the Castellum Wall
3. Trans: Paushuize or Pope's Residence and the University premises
4. Pieterskerkhof: Lights of Saint Peter's Church
5. Drift: Drift Vaults
6 and 7. Janskerkhof: Jans Lights and Lights of Saint John's Church construction
8. Minrebroederstraat: Saint Willibrord Church
9. Ganzenmarkt: Ganzenmarkt Tunnel
10. Bezembrug: Bridges
11. Buurkerkhof: Buurkerk
Across the street, at Buurkerkhof you will find the Nijntje Museum. On the front door of the museum is shown the projected animation "Nijntje are you coming to play outside?
12. Nijntje Museum – projected animation of the Nijntje on the wall of the Nijntje Museum.
End this fantastic walking tour with a nice drink and snack in one of the nice cafes you find on or near Domplein. Most delicious tip: Drink a glass of hot Gluhwein on a terrace.
A nice place to sit down as well is by Soep-er on Vismarkt, Jozef on Mariaplaats, or eat a nice cake or a fabulous pie by Bakery Bond and Smolders on Lijnmarkt.
If you like Utrecht, stay in one of these lovely hotels or B&Bs.
This is more than a great place to stay. ➔ Book here your stay in the hotel Slapen onder de Dom.
Hotel "Slapen onder Dom" can be translated as "Hotel Sleeping under the Dome" This hotel is located in a totally renovated and modernized historic wharf cellar on the Oudegracht. All fascinating sights you will find in the vicinity of this bed & breakfast. Nightlife venues are within walking distance, for example, Tivoli Vredenburg for the most awesome concerts, discotheques, great hotel restaurants, the Utrecht Jaarbeurs, trendy cafes on the Neude, the Janskerkhof with cafe Hofman for dancing till the late hours. You won't be bored for a moment here.
Historic Utrecht. What more is there to see and do in Utrecht
In addition to the Trajectum Lumen walking tour, there are many more special light objects to be found in Historical Utrecht. When you walk through Utrecht and you look around you will see beautiful old canal houses, bridges, boats, and church towers highlighted in special ways.