Flowers in the Netherlands are abundantly present all over the country. Holland really is a flower country and the Dutch are great flower lovers. There is so much to say about flowers. Tulip fields, flower parades, and top-of-the-bill gardening cheer up the country. Holland truly is the garden of Europe.
Flowers in the Netherlands on balconies, gardens, and covering immense fields
I for one love flowers and can't imagine a life without them. My house, garden, and balcony are filled with flowers and blooming plants. I see flowers when I go to the park, in the streets, and at the shopping malls. When I go to a party or visit a friend I take flowers with me as a little gift. And I'm not the only one. Almost everyone I know, men and women feel the same about flowers. Flowers are part of our weekly shopping. It's a way of life to have flowers in and around the house. Flowers make life happy. And if you ask me what my favorite flowers are? I must say "Violets".
Shopping: where to buy flowers and blooming plants
There are lots of places where you can buy flowers, for example at the florist, shopping malls, garden centers, hardware stores, markets, petrol stations, railway stations, and roadside stalls, and at farms growing flowers,
Colorful Markets: flower and plant markets
There are many special flower and plant markets in the Netherlands. In fact, you can find them in most cities. In Amsterdam, there is a floating flower market since 1862 on the Singel. This canal obviously is part of the Canal Belt, which has been declared a UNESCO World Heritage Site. The Amsterdam center flower market consists of moored sloops. On each sloop is a greenhouse. In fact a mini version of the greenhouses you find throughout the Netherlands.
Tulips and daffodils from Amsterdam
Obviously, it is this colorful abundance which makes the Netherlands such a popular international destination. Flower lovers get here all year round. Whether you are looking for tulips, daffodils, snowdrops, carnations, violets, peonies, or orchids, you are guaranteed to find each of them in their own season at the Flower Market. In addition, house plants, herbs, seeds, and flower bulbs are sold at the flower market in Amsterdam.
Saturday Flower Market in Utrecht
The Flower and Plant market on the Janskerkhof in Utrecht wraps you up in scents. A fragrant sea of ​​flowers covers the ancient market square. The market is every Saturday from 08:00 to 17:00 in the center of Utrecht. Flower and plant markets are very popular due to the wide range of flowers, bulbs, and indoor and outdoor plants. These markets are frequently visited by both the local population and foreign tourists. Besides, what is more, photogenic than a flower market? So now you know where to take a magnetic selfie.
Address:
Flower market Amsterdam, Singel, 1012 DH Amsterdam. Opens every day from 9.00 till 18.00 hours.
Flower market Utrecht, Janskerkhof and Oudegracht, 3512 JE Utrecht, Only on Saturday from 9.00 till 17,00 hours.
Watering flowers and blooming plants
Flowers and blooming bloomers need a lot of water. In the Netherlands water is never a problem, we have lots of water, so to say the Netherlands is a wetland country. So far, watering plants has not been a problem, only in extremely dry hot summers has the government requested not to water the gardens too much.
Tradition, Dutch flowers for the Vatican in Rome at Easter
It is a 35-year-old tradition that there are Dutch flowers on the balcony of the Vatican when the Pope pronounces the blessing Urbi et Orbi at Easter for the faithful who have gathered at St. Peter's Square in Rome. The flowers are a gift from Dutch growers, they send many thousands of Dutch flowers to Rome in the week before Easter for decoration. During the Easter speech, the Pope thanked the growers in Dutch for the flowers.
Flowers in the Netherlands are found in Botanic Gardens, Arboretums, and Plant Museums
There are more than 20 botanical gardens in the Netherlands with the most special plant collections. A botanical garden is a plant museum and is usually associated with a university. A botanical garden is kept for scientific research, conservation, exhibition, and education. A botanical garden gives you a glimpse of the worldwide diversity of plants. Soon there will be a separate article with an overview of botanical gardens, arboretums, and plant museums in the Netherlands.
Flowers in the Netherlands bring flower parades and expositions
Floriade, World Horticultural Exhibition, a ten-year annual exposition.
Since 1960 there have been every ten years a Floriade. A Floriade is a world horticultural exhibition held in a Dutch town. A Floriade lasts from March/April to October. After a Floriade has been closed, it becomes free to visit the park. The first Floriade was in 1960, organized in Rotterdam, the Euromast was built especially for the Floriade.
This year is in Rotterdam May proclaimed as Parks Month. The parks month will be opened in the Museum Park with music and street theatre.
In 1972 and 1982 the Floriade was in Amsterdam, Gaasperplas Park. In 1992 in Zoetermeer, 2002 at Haarlemmermeer, 2012 at Venlo and in 2022 in Almere. At a Floriade, more than 400 national and international participants presented innovative developments and their best products. The Floriade site in the city of Almere is now being developed into the new green urban district of Hortus.
Keukenhof, The most beautiful spring park in the world! More tulips, daffodils, and hyacinths than you ever could imagine.
Address: Stationsweg 166A
2161 AM Lisse Keukenhof is open from Thursday 24 March to Sunday 15 May from 8:00 am to 7:30 pm.
Information and tickets: https://keukenhof.nl/en/
Flower parades in the Netherlands
If you want to see flowers go to a flower parade. During spring and summer, there are several beautiful flower parades organized. The most beautiful flower parade is in April "Bloemencorso Bollenstreek". Make sure you get there in time so you'll get a good spot. There are about 20 huge floats and 30 vehicles richly decorated with flowers that cover a 42km itinerary from Noordwijk to Haarlem.
Season flowers and blooming plants
Every season has its own type of flowers. In autumn the garden centers are full of flower bulbs and in the spring they sell spring- and summer bloomers. Flowers are not only kept in Dutch households but are also a part of the street scene. Flowers and flowering plants are grown both indoors and outdoors at garden centers and landscaping companies. There are hundreds, if not thousands, of different flowers. In the Netherlands, there are many popular flower varieties per season. In springtime flowers like daffodils, hyacinths, violets, and tulips are very popular, in summertime petunias, ice flowers, and sunflowers. In autumn asters and anemones are very popular.
Wildflowers/field flowers
The Netherlands has a great diversity of wildflowers. The government is encouraging municipalities to grow wildflowers in parks, roadsides, and other public places. Gone are the days when weeds were sprayed. The Dutch are encouraged to build facade gardens before their houses. Wildflowers that you will find in the Netherlands are, for example, daisies, poppy, dandelion, thistle, parsley, red clover, cornflower, foxglove, knapweed, Brunel, field forget me not, plantain, buttercup, columbine, snapdragon, and orris.
Insect hotels
To conserve insects and birds the Dutch are encouraged to build insect hotels. An insect hotel is placed in a sunny spot and has many crevices and cavities to attract different kinds of insects. Material to build an insect hotel is, for example, reed, roof tiles, plant remains, pine cones or loam.
Flowers from bulbs, tubers, or rhizomes
BULBS
Flower bulbs grow well in the Netherlands because the soil and the weather are good. Flower bulbs cannot withstand very cold winters and very hot summers. Behind the dunes in North and South Holland is good soil for bulb cultivation. Bulbs do well in sandy soil with sufficient fertilizer and lime. In the Flevopolder, farmers adapt the clay soil: they mix it with sand and lime so that the bulbs also grow there very well.
Spring bulbous flowers are crocus, daffodil, hyacinth, and tulip.
Summer bulbous flowers include lilies, Callas, dahlias, gladioli, and irises.
TUBERS
A tuber is solid inside and is a thickened piece of stem or root of a plant. A bulb is a complete plant. You can eat some bulbs and tubers. Think of an onion (bulb) and a potato (tuber). You can clearly see from an onion that a bulb consists of all kinds of layers. Just cut an onion in half. If you leave an onion in the ground, a new plant will grow out of it. It then comes out of a button in the middle of the bulb, well hidden between all the layers. If you don't eat a potato, a new plant will grow out of it the following year.
RHIZOMES
The rhizome is the offshoot of a plant that continues to grow underground and from which a new plant grows. Such an offshoot grows from the mother plant and can have leaves and nodes. A node is a place where the petiole attaches to the leaf. A new plant can grow on each node. The plants that grow from a rhizome have the same characteristics and properties as the mother plant. There are many different types of rhizome plants, for example, Cobbler's Plant, Canna, Peony, Lily of the Valley, Hellebore, Garden Geraniums, Water Lily, Baby's Breath, Solomon's Seal, Mint, Rhubarb, Blackberries, Raspberries, Asparagus, and Ginger.
Spring / Summer / Autumn / Winter flowers
A Daffodil, in Dutch we say Narcis, is a spring bulb flower. The Daffodil is a genus of bulbous plants of the daffodil family (Amaryllidaceous). The name Narcissus comes from Greek mythology. Daffodils are spring bulbs and need a cold rest period. Daffodils can be left to naturalize peacefully; they multiply automatically and every year there will be more flowers.
Hyacinth, in Dutch we also say Hyacinth. Hyacinthus is a genus of bulbous plants of the hyacinth family (Hyacinthaceae). The well-known richly flowering and fragrant varieties, which are also placed in the living room, are descendants of Hyacinthus orientalis, which originated from Syria and Iraq. The hyacinth was discovered by Europeans in the 16th century and soon the first bulbs were transported to Europe and the Netherlands. The original color was blue, by intensive crossing new varieties and colors were later created.
Spring bloomers
Camellia Japonica is blooming from March till May. The flowers of the Camellia are impressive and beautifully colored. In Japan and China, camellia has been cultivated for more than a thousand years and is considered a symbol of good luck. In 1692 the VOC brought this winter rose to the Netherlands and since then thousands of cultivars and hybrids have been bred.
Geraniums
A Dutch proverb is "sitting behind the geraniums" which means that when you are old you have nothing more to do. Geraniums come in many colors white, pink, and red. Geranium is an easy plant that is easy to keep in a planter on a patio or balcony. Whether the plant smells good, I don't think so.
Saint Jude's Medal
The lovely Saint Jude's Medal (Lunaria annua) blooms at Easter. The Judas medal blooms in the colors purple and white. The plant gets its name from the round seed pods that resemble pennies. The plant is attractive to butterflies, and honeybees and bumblebees are also happy with it.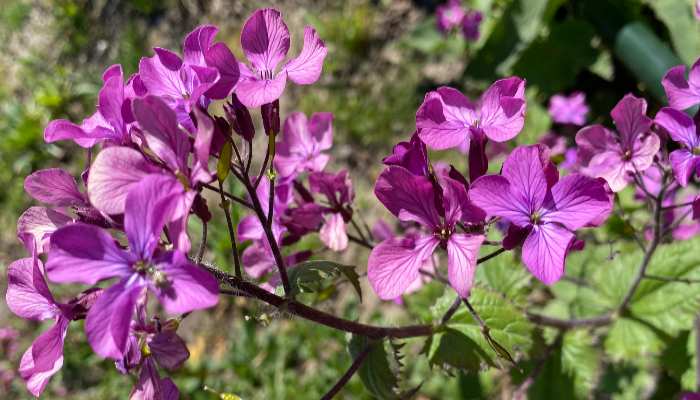 Summer bloomers
There is an endless list of the most fantastically beautiful colorful intoxicating-scented summer flowers. My favorites are the Hibiscus, Virginia Creeper, Honeysuckle, Sunflower, Roses, and Coneflower. And so I could go on and on naming plants. Certain flowers and their smell bring back unforgettable memories.
Autumn bloomers
Asters
Autumn asters (Compositae of Asteraceae) bloom from late summer to autumn and then add a lot of color to the garden. Asters attract butterflies and bees. Bol asters are especially popular in the Netherlands
Flowers | Winter bloomers
Christmas rose | Hellebore
The Helleborus blooms around Christmas. In addition, there are other colorful Helleborus species that bloom in winter. The Helleborus orientalis in particular is a beautiful variety, which flowers in February and is available in different shades.
Dutch proverbs and saying about flowers
Sleep like a rose | Sleep like a baby, peacefully, a good sleep
Putting the flowers outside | Painting the town red. Have a great party.
No roses without thorns | Pleasant things also have their unpleasant sides
Life isn't always a bed of roses | Life is not always good; everyone has setbacks from time to time!.
Tell someone something under the rose | Tell someone something secretly
The most beautiful flowers bloom on the edge of the ravine | The best results carry the greatest risks
Happiness is the art of making a bouquet of the flowers that you can reach – Living happily with the given possibilities
Searching for a flower in a Fig Plant – Searching for the untraceable
Each flower finally loses its scent and color | Each life ends eventually
Be a wallflower | Not to be noticed