The small town of Nieuwpoort is completely surrounded by water. A fortified city on the banks of the river Lek. Going by ferry across the river you will find the Dutch silver museum in Schoonhoven.
Nieuwpoort's natural surroundings are characterized by polders, which are low-lying areas protected by dikes. These polders create a scenic landscape, and visitors can enjoy cycling or walking along the dikes to appreciate the beauty of the region.
By all means, the relatively small historical town of Nieuwpoort is a lovely place to visit. The locals are very friendly and always willing to tell you about the history of their lovely hometown. Today, Nieuwpoort retains its historical character, and you can explore its picturesque streets and buildings.
The former Town hall is rebuilt into the Museum Nieuwpoort
In the former town hall, a stunning monument, you will find documentation on the history of Nieuwpoort. In the 17th century, the fortified city became part of a defensive line of great national importance: "The Dutch Waterline" (Hollandse Waterlinie). The land around the city was flooded as a defense line. This occurred so often in the year 1672 that the farmers around the city were not amused. They sabotaged the sluice. The sluice was built underneath the City Hall. Quite a unique combination.
Next to the permanent expositions, there are great temporary expositions organized in Museum Nieuwpoort. Currently on display is the exhibition "The water wolf strikes – Water Emergencies in the Alblasserwaard.
Museum Nieuwpoort, Hoogstraat 53, 2965 AK Nieuwpoort
Opening times: Wednesday, Friday and Saturday from 13.30 till 17.00 houts
Nieuwpoort, nicest village in Holland: off the beaten path in the Netherlands.
Visit the old Town Hall on a Thursday. Probably there will be an exhibition.
Take a walk around the village. Along the canals and fortifications.
Taste fresh fruit and many other regional products at Landwinkel Pek, Lekdijk 48, Langerak.
Experience farmer's life in the polder. The farm is situated on the dike along the river Lek.,
Celebrate the yearly Kingsday with the Nieuwpoort folks on April 27.
Visit the tiny weekly market on a Friday afternoon and taste regional products.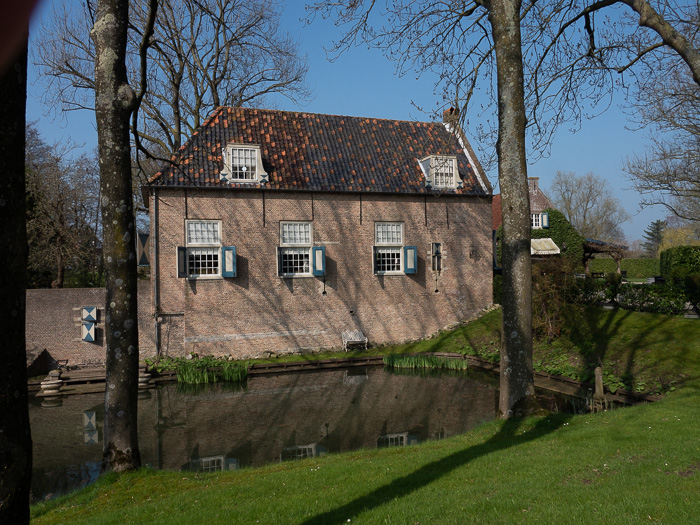 Things to do around Nieuwpoort the nicest village in Holland
Due to its location near the rivers, Nieuwpoort is also popular among boating and water sports enthusiasts. The town offers opportunities for recreational activities such as sailing, fishing, and cruising along the rivers.
Overall, Nieuwpoort provides a glimpse into Dutch history and offers a peaceful retreat from larger cities. It combines historical charm with natural beauty, making it an appealing destination for those seeking a relaxed and authentic Dutch experience.