Truus van Lier is closely involved with the Dutch resistance during the Second World War. Resistance is not only a men's work, many women take part in the resistance. Women managed to use traditional ideas about gender roles against the occupying German forces and beat them by surprise. Many women participated in the resistance, for example by protecting people in hiding, distributing leaflets and weapons, and carrying out attacks on agents collaborating with the Germans and German authorities. Truus van Lier was one of these brave women in Utrecht playing a key role in the resistance during the 2nd World War. Truus van Lier paid for this with her life, she became only 22 years old.
Truus van Lier, a brave young heroine of Utrecht
Truus (Geertruida) van Lier was born in 1921 at Prins Hendriklaan 48 in Utrecht next to the famous Rietveld-Schröder House. She was the youngest daughter of Willem Alexander van Lier and Dirkje Willemina Wensink. Her father was Jewish and a lawyer. Her mother had studied chemistry and was a house wife after her marriage. Her mother photographed and developed pictures as a hobby. Truus had one sister named Mientje (Wilhelmina). Religion played no role in this liberal family. After primary school, Truus attended the Municipal Lyceum for Girls, but she graduated from the Christian Lyceum in Zeist.
Right after the start of the war, her parents divorced because her father was Jewish. Therefore her mother could reapply for an Aryan declaration, while her father went into hiding.
On 7 October 1940 Truus started studying law at Utrecht University. The Netherlands was already occupied by then. Her sister Mientje was already studying French literature at this time at the Municipal University of Amsterdam. Truus became a member of the Amsterdam student resistance group CS-6, most of the members were executed during the war. The resistance group worked from the basement of a family home where bombs were made to sabotage trains moreover the group raided distribution centers.
Student at wartime | Student's resistance
In 1943 Truus van Lier managed to infiltrate the NSB (National Socialist Movement: a Dutch political party and semi-military group collaborating with the Germans) and the Wehrmacht in Amersfoort. She took pictures of Soesterberg airport and passed them on to the resistance. In addition, as a courier, she delivered messages, weapons, and illegal literature and accompanied Jews to hiding places. On 3 September 1943, Van Lier shot and killed the Utrecht NSB chief of police Gerardus Johannes Kerlen near his house at Willemsplantsoen in Utrecht. A bounty of ten thousand guilders was placed on her head. After the tip of a traitor, Truus was arrested in Haarlem and convicted of murder, possession of weapons, and the status of 'half Jew'. Shortly afterward she ended up in Sachsenhausen concentration camp, She was executed the same year.
Her mother did everything she could to save her 22-year-old daughter. But during one of her visits to the prison, she was arrested and taken to concentration camp Vught; she died in early 1945 in Ravensbrück. Sister Wilhelmina survived the war by fleeing to England. Her father survived the war after being in hiding for 5 years. After the war, her father started a search for his youngest daughter and in July 1946 the Red Cross was able to confirm that his daughter Truus had been executed on 24 November 1943 in the Sachsenhausen concentration camp.
Tribute | a flower monument for Truus van Lier
Since 2005, as a tribute, a flower monument to Truus van Lier blooms every spring in the grass along the Catharijnesingel in Utrecht. Hundreds of daffodils make up the name 'TRUUS'. A real admirer has committed himself to this monument, he planted all daffodils to ensure that Truus is not forgotten: a flowering monument for Truus van Lier.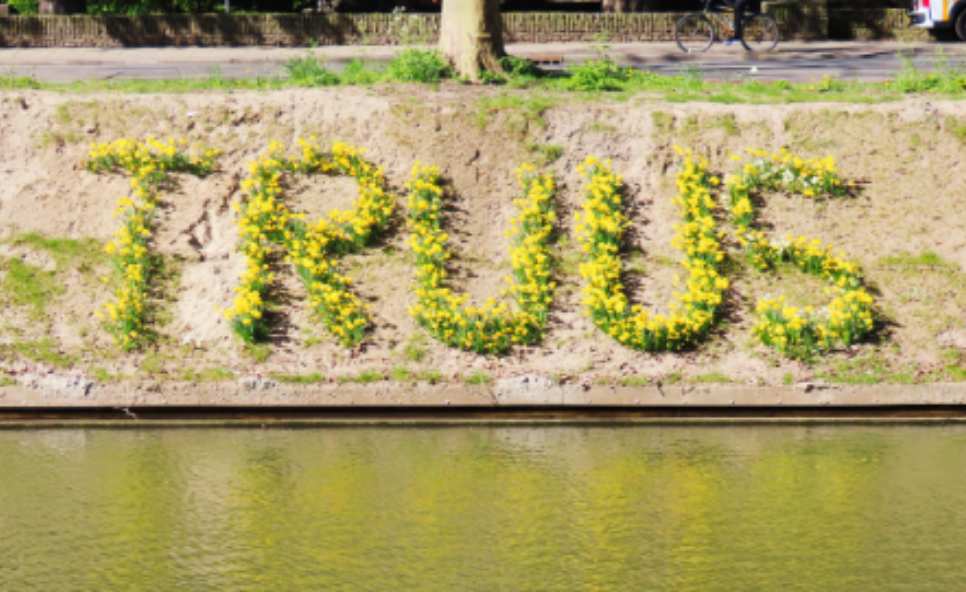 Students Memorial stone
A memorial stone for deceased students in the Utrecht Academy Building on Domplein mentions her name.
Statue Truus van Lier
In April 2022 a statue of Truus van Lier was placed on the Catharijnesingel, almost on the spot where Truus committed her major act of resistance in 1943. Here she shot and killed the Utrecht police commissioner and also NSB member Gerard Kerlen.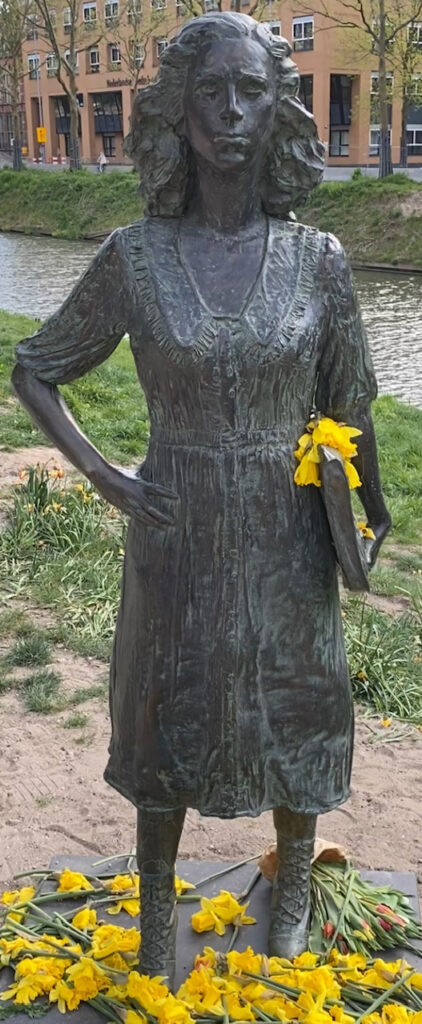 Books and documentaries
Several books and documentaries have been made about the short but impressive life of Truus van Lier. Unfortunately, these books have never been translated into English and the documentaries do not have English subtitles.
Jessica van Geelen: Truus van Lier, life of a resistance woman
Michiel van Diggelen: Truus van Lier, from schoolgirl to resistance woman
Edith Wegman: Truus van Lier: she didn't stand aside
Report by RTV Utrecht about students in the resistance
Photos, footage, archival material can be found in the Utrecht Archive