KING'S DAY 2023 IS CELEBRATED IN THE CITY OF ROTTERDAM ON 27 APRIL 2023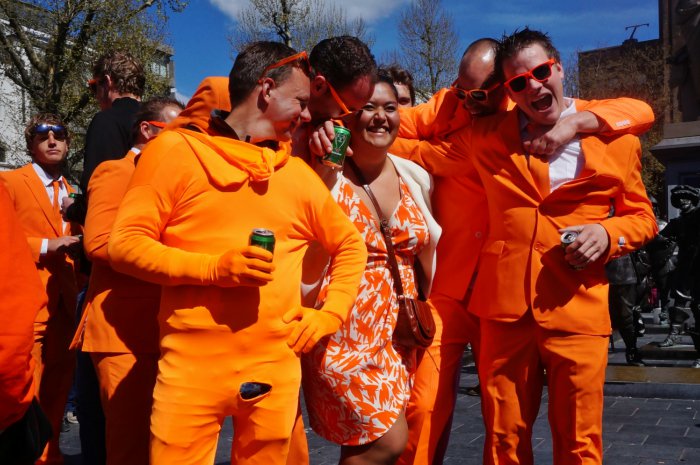 You can count on Rotterdam to turn out more than great, they make a huge awesome fantastic turbo party of King's Day 2023. The royal couple and their daughters Amalia, Alexia, and Ariane plus their royal guests are more than welcome in Manhattan on the Maas as Rotterdam is also called. If all the princesses will be present on Kingsday 2023 is not yet known.
If you want to visit Kingsday on 27 April 2023 in Rotterdam book you're hotel in time. A very nice place to stay is on the SS De Rotterdam. This former passenger ship of the Holland-America Line is a unique hotel that offers rooms next to the harbor of Rotterdam.
➔ Make here your hotel booking for Kingsday 2023
King's Day 2022 IN Maastricht
After 2 years of non-celebrations, Kingsday 2022 will be celebrated again. This Kingsday will be a day of connectedness – a celebration we've been looking forward to like never before. On Wednesday 27 April 2022, the Royal Family will celebrate King's Day in Maastricht.
Dutch King's Day In Amsterdam
The Dutch King's Day is the biggest birthday party of the year in Holland. On April 27th we, the Dutch, celebrate the birthday of our King Willem Alexander. Celebration time, come on. There will be music, flea markets, fairs, and parties everywhere. It is a feast. A Celebration. Let's all celebrate and have a good time. So everyone dresses up in orange; everything is decorated in orange and the entire country looks orange. It is so cool. Get your gang together and mark April 27 on your agenda and come to Holland. You don't want to miss this awesome party. It is a celebration time each year on April 27. Come on. In Utrecht, the party starts on the 26th of April at 6 p.m. So bring your good times, and your laughter too. Well, King Willem Alexander: we gonna celebrate your party with you. Celebration time. Come on.

King's Day in Utrecht starts on April 26th at 6 p.m.
In Utrecht, King's Night starts in the evening at 6 p.m. sharp or so we say 18.00 hours. King's Day with the biggest flea market in Holland. Musical performances are all over the center of Utrecht city. Life music, dancing in the streets, it's one big happy party. To be sure of a sales spot or a place to perform an act, spots in the streets are claimed days in advance. Days in advance, spots in the streets are already being claimed.


King's Day Amsterdam
Everyone is out, nobody stays at home, it's a big street party with music, street theater, and children selling their toys on the street. There are activities in the parks. But above all there is a lot of fun, everybody is happy.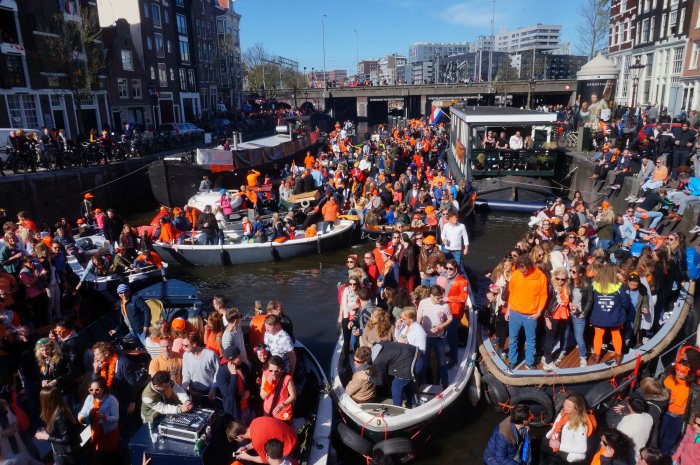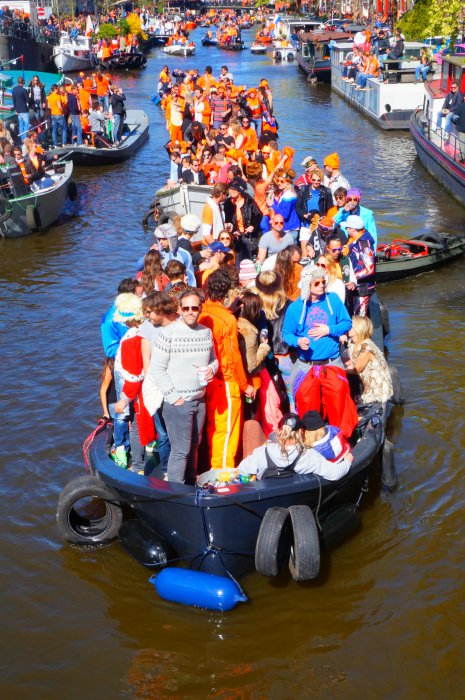 Dutch King's Day
King's Day is on April 27, this is the birthday of Willem Alexander, King of the Netherlands.
Orange
Everyone dresses up in orange and is having a grand party. The total country feasts with music, fairs, flea markets, and parties in the streets and parks. Put on something orange and join the party.
On King's Day, the Dutch King is on tour with the Royal Family
Each year the Royal Family visits a different city to enjoy entertainment. In previous years, the Royal Family visited the following cities: Dordrecht, Zwolle, Tilburg, Groningen, and Amersfoort. King's Day was not celebrated in Corona time. It is not yet known which city the royal family will visit this year. But we do know that the Amsterdam Cafe "De Blaffende Vis"(The Barking Fish) will surprise us with a display on the facade of their cafe in the quarter "Jordaan".
The Royal Family arrived by boat at Dordrecht in 2015 and a grand parade started. After the parade, the Royal Family went to the Cathedral where they watched a show by the Bach Choir. Later that day they met city residents; enjoyed local products and artists showed their work.
Best places to be on King's Day: Amsterdam, Utrecht, or The Hague.
In Utrecht the festivities start at Kings Night, which is on the evening of the 26th at 18.00 hours.
So? Will you join us on King's Day?