Do you love autumn? I am crazy about it. The Netherlands is a wooded country and how nice and healthy it is to take a walk or bike ride through a forest on a regular basis. Autumn is so very colorful. Leaves are changing color, the air is humid, it is getting dark earlier, the air is humid and mushrooms are sprouting from the ground.
Colorful Autumn
Beautiful large forests in the Netherlands can be found in National Park the Veluwe, the Utrechtse Heuvelrug, Lage Vuursche, Amelisweerd, Amsterdamse Bos, the Posbank, the Unholy Forests, and the Biesbosch. If you look at the map of the Netherlands, despite the fact that it is a small country, you will see large green areas with forests. Every province is rich in beautiful forest areas.
Association Nature Monuments
In the Netherlands, the Natuurmonumenten Association is committed to preserving nature in the Netherlands. The association has 900,000 members. The Netherlands. Natuurmonumenten presents itself widely through social media and media. Nature documentaries and broadcasts about walks through nature reserves are regularly shown on TV with explanations from the forester. Natuurmonumenten works to raise awareness of vulnerable nature and calls for nature to be taken care of and protected.
Walk or bike the Dutch forests, national parks, and nature reserves
Mushroom routes
The association Natuurmonumenten has set out several mushroom routes, check the website to see if there is a nice walking route nearby.
Look here for the mushroom routes in the Netherlands ➔ Natuurmonumenten – mushroom routes
Village and Nationa Park forest Lage Vuursche
One of my favorite walks is through the forest of Lage Vuursche. Castle Drakenstein is located in the village of Lage Vuursche. Princess Beatrix, the former Queen of the Netherlands, and the mother of King Alexander live in this castle. The former queen lives in a beautiful wooded area. The woods of Lage Vuursche are near Amsterdam and easy to travel to. If you like to bike you can make a tour from Utrecht to Lage Vuursche Forrest. Village the Lage Vuursche is lovely with some nice small restaurants. From the village, you walk by Castle Drakenstein into the woods.
➔ Cycling from Utrecht to Lage Vuursche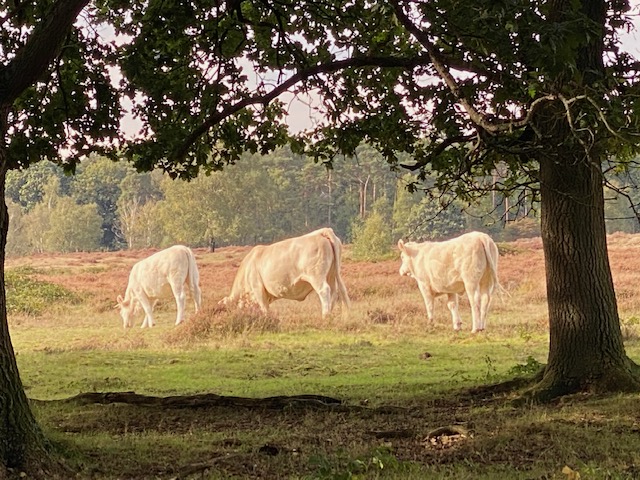 It does not matter what season you walk in this forest, Lage Vuursche forest is always beautiful. Slightly inside is a fenced-off area where cows graze and there are several small forest lakes.
Delicious mushrooms in autumn dishes
At the end of your walk, spent some time in the "restaurant the Kuil of Drakenstein, and have a nice fresh Ginger tea and a healthy and tasty sandwich.
Another forest where I like to walk and cycle around is Amelisweerd. This forest is located near Utrecht.
➔ Amelisweerd – forest near Utrecht