Visit a Port below sea level in Rotterdam
Rotterdam is expanding in the sea. A new offshore port is accessible for the largest ships in the world. Ships that measure up to 400 meters and ships that can lift a drilling platform out of the sea. This new port is called "Maasvlakte 2". Rotterdam harbor is the heart of the Dutch economy. And it is quite something. We drove 50 kilometers from the east of Rotterdam to the beach (!) at the port mouth. Not a typical scenic tourist trail. I only saw factory terrains. Huge Chemical and Petrochemical plants. Shipping companies and Coal terminals. It went on and on. If you like industrial landscapes put this on your bucket list. If you only want to see the new port on the sea and avoid the industrial zone we tell you to take a boat trip from the center of Rotterdam. Or, even better, rent a bike at the railway station of "Hoek van Holland" take a Fast Ferry, and cycle around the harbor.
Future land Information Center on Maasvlakte Rotterdam
Future land is the starting point for boat- and bus tours through the harbor. It is the best and only place in the seaport for traditional Dutch soup (Today they serve: "Snert") or hot chocolate and apple pie. And we do need a hot cup of soup desperately because our visit is on a slightly foggy winter's day.
At the Information Center, we visit the permanent exhibition showing e.g. archeological finds from the bottom of the North Sea and a detailed history of the creation of the "Maasvlakte".

Visit the free information center Futureland at the Maasvlakte.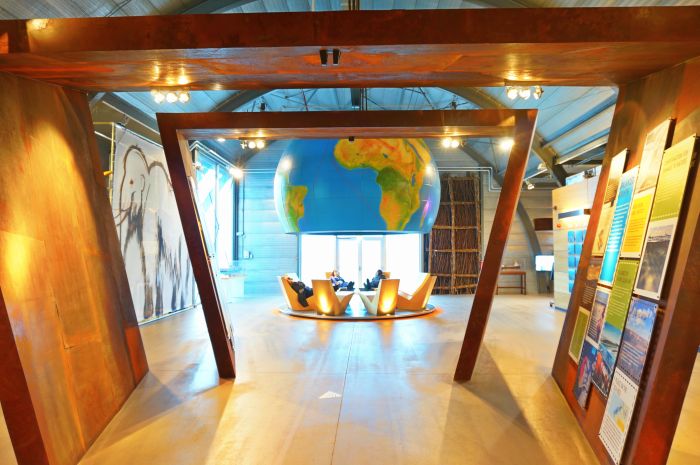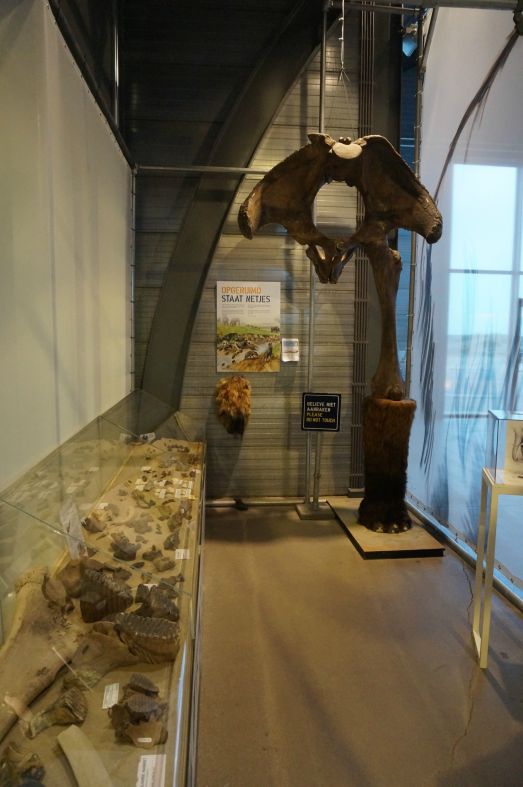 In Future land, you will be encouraged to operate computer simulations and you will learn about techniques used to gain land from the sea. You will get insight into the combinations of modern and old techniques being used to build a lasting port for the 22nd century. You might get obsessed with a computerized system for offloading a container vessel. Moreover, you can get insight into the future of this environmentally friendly evolution of a port.
Maasvlakte Rotterdam welcomes worlds largest containership.
The Maasvlakte was constructed by two of the world's largest (Dutch) dredging companies: Boskalis en Van Oord in a partnership called PUMA. Rotterdam is the largest harbor in Europe. The gateway to the EU. The harbor's central canal is 600 meters wide and 20 meters deep. This port offers access to the world's largest existing container ships. Vessels carrying up to 19 244 containers are processed fully automated. Computer-controlled stacking cranes and automated guided vehicles transport the containers to a storage place; overload containers to smaller ships and arrange the start of inland transport by train and lorry. On the quay, there are no people. The hybrid automated vehicles find their way to the docking station on their own when batteries are low. I only saw a few surveillance cars driving around. Besides that, there was no sign of human activity.
During the World Port Days on Saturday, September 4, around 4 p.m., Ever Ace arrived at Hutchison Ports ECT Rotterdam at the ECT Delta terminal (south side) in the Amazoneharbor. The ship with a length of 400 m and a beam of 61 m has a capacity of 23,992 TEU. That is 28 twenty-foot containers more than HMM Algeciras that arrived in Rotterdam on June 20, 2020. This makes it the largest container ship in the world.
Maasvlakte beach
Wonderful new beaches and dunes for recreation have been created on the Maasvlakte. on the Maasvlakte on the beach and in the dunes you can take fantastic walks, sunbathe, swim and enjoy the peace and quiet. If there is space and a quiet beach anywhere it is on the Maasvlakte. Plenty of room to fish, surf, and fly kites. Part of the beach is reserved for nude recreation. So there is plenty of space for everyone. And the beach is easily accessible and there is plenty of parking.
From Rotterdam Airport to Maasvlakte 1
Public transport: If you want to go straight from Rotterdam Airport to Maasvlakte 1 we advise you to take bus 33 to "Berghaven Hoek van Holland" where you catch the Fast Ferry to Maasvlakte 1. Put this tour on your bucket list. The ferry takes you through the port mouth of Rotterdam with its intensive shipping traffic. It is awesome.
To travel by bus or train in Holland, in general, we advise you to buy an "OV-Chipcard". This card is available in the Arrival Hall of the airport.
By car or bicycle: navigate to "Berghaven Hoek van Holland".
Getting around the port of Rotterdam
From the center of town: In July and August, you can make a day trip by boat to the Maasvlakte. The boats sail every day. The rest of the year the boats sail at random. If you want more information call the Company Spido: 010 – 275 99 88.
Navigating to Visitor center Future land: You navigate to Europaweg 902, 3199 LC Maasvlakte, Rotterdam, Havennummer 8360. Reservations: +31 (0)10 252 252 0
From Hoek van Holland: Take a train from where ever you are in Holland to "Berghaven Hoek van Holland". Rent a bicycle at the railway station in Hoek van Holland. Then take the Fast Ferry – with your bike – to Antarticaweg on the Maasvlakte. From there it is a 5 km ride to the visitor center Future land.
From Futureland: Boat trip and bus ride through the port. Usually leaving at 13.30 hours. Not on Monday and Saturday. Reservations: +31 (0)10 252 252 0
Events and restaurants on Maasvlakte Rotterdam
World Harbour Days Rotterdam, is a three days event, every year on the first weekend of September.
Shooting club: The shooting club offers different arrangements for improving your shooting skills. You do not have to bring your own bullets. Everything is there. There are professional instructors and shooting ranges. Moreover, you can shoot clay pigeons. For more information and your reservation call: 0181 263 939 or 06-53125343.
Where to eat: The one and only restaurant on Maasvlakte is the Shooting Club. Navigate to: Krabbeweg 125, 3199 LE Maasvlakte Rotterdam. We advise making a reservation: 0181 263 939 or 06-53125343. From April to October, the place is open on Wednesday, Saturday, and Sunday from 13.00 hours.

Where to stay near Maasvlakte? ➔ Book here Hotel Stayokay Rotterdam or ➔ Book here Hotel Stayokay Den Haag