The Dutch Cheese markets of Alkmaar and Gouda are quite famous. On Thursday morning at 10 o'clock, the market starts in the historical center of Gouda. On Fridays, at the same time, you can watch the traditional Dutch Cheese trade-in Alkmaar. Go see it. It is only a short trip by train from Amsterdam. In this blog, we show you the way in Amsterdam along with Anne Frank House and the Markets of the Jordaan to a Cheese Museum.
Cheese Exhibition オランダのチーズ
As we enter one of the smallest museums in Amsterdam the smell of cheese is overwhelming. It looks like a shop and it is a shop revealing the history of cheese as well. In the basement, there is an interesting display of the production process of cheese. The staff will tell you all there is to know about different kinds of Dutch cheese. The shop assistants are dressed in traditional Dutch clothes. If you like you can also dress up in a traditional Dutch costume, put on wooden shoes, and catch your selfie.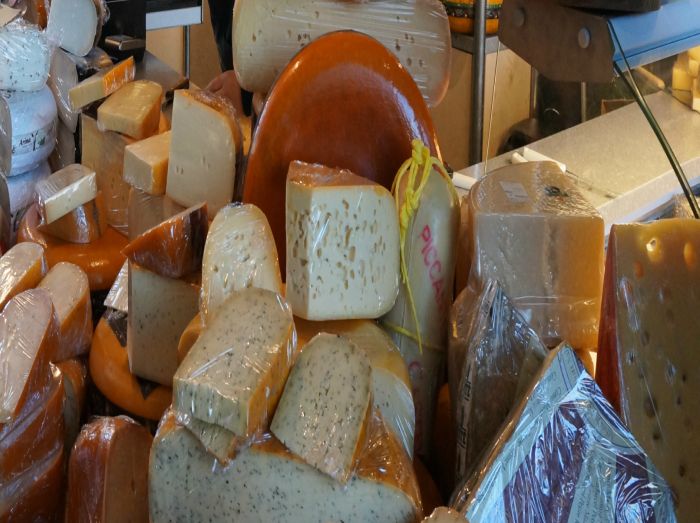 Of course, you can taste Dutch cheese in all its appearances and if you like it you can buy some as well. We recommend "Old Amsterdam", a strong-tasting old cheese with a dominant character. If you like a more soft and light cheese then we recommend grass cheese. This cheese is made of milk from cows who are for the first time outside after a winter in the stable producing the best creamy milk from the rich Dutch spring pastures. Cheese must ripen for at least 4 weeks before you can eat it, but when you taste spring cream cheese it melts on your tongue. The displays in the museum give you a good idea about how cheese is made in the Netherlands.
Watch this little video. I absolutely adore these dancing cows, every spring when the stable doors open the cattle enjoy freedom regained by having a party. Before going outside in the fields the cows listen all night long to Dutch Dance Music shaking their boobs in the barn. Shake your cheese, say it a bit… Say Cheese.
Cheese markets
The best Dutch Cheese museum is located in Alkmaar, a city in the north of Holland. From April till September, every Friday morning, there is a traditional cheese market in the historical center of Alkmaar. In the city of Gouda, on Thursday mornings from April to September, there is a cheese market as well. On both markets, cheese is sold in the traditional Dutch way with vigorous hand-clapping, an absolute must-see, must-smell, but most important of all an absolute must-taste piece of our delicious cheese.
In the Netherlands, cheese is mainly made from cow's milk. But goat's cheese and sheep's cheese are also very popular. Cheese is made in different strengths, from very young grass cheese, young cheese, matured cheese, and extra matured to old cheese and extra matured cheese. The old cheese contains a lot of salt.
Edam, Gouda, Beemster and Leerdammer Cheese
The best Dutch cheese is named after the city of production, for example, Leerdammer cheese is made in the city of Leerdam. Cheese like Edam, Gouda, and Leerdam is known and sold all over the world.
Tips for Trips
Opening hours Cheese Museum:
Daily from 10.00 till 18.00 hours
Address: Prinsengracht 112, Jordaan, Amsterdam
Google maps will guide you very well through the Netherlands.
Cheese market Alkmaar: Friday morning in the historical center from April till September.
Cheese market Gouda: Thursday morning in the historical center from April till September.
Nearby: Anne Frank House
The Cheese Museum is near Noorder Market, Linden Market, Westerstraat Market, and the Anne Frank House