Fabric market Utrecht
In the centre of Holland, in the city of Utrecht is a huge market, where only fabric and haberdashery are sold. This fabric market is unique in Holland and is cold "The Lapjesmarkt". The Lapjesmarkt is located on  Breedstraat in the old historic centre of Utrecht. This market is the biggest and oldest fabric market in Holland, it covers a whole street and sells nothing but fabric & haberdashery. There are almost 100 market stalls with all kinds of different types of fabrics. The fabric market is each week on Saturday morning from 8.00 till 12.30 o'clock.
There are fashionable fabrics to design clothes for adults and children. Special furniture fabrics, for coating furniture. Drapery fabrics so you can create window treatments such as curtains, draperies, valances, swags, and roman shades. There are fabrics to make duvet covers, pillows, bed skirts, and lampshades art. And if you look good you can find vintage fabric too. You can't name them all, there are uncountable things you can make from fabrics.
Buy very expensive fabrics sold by inch or centimeter or buy the cheapest fabrics sold by coupon or meter. Just walk around, snoop through the piles of fabric, and be amazed by this colorful market. There is fabric from different materials like cotton, silk, linen, polyamide, polyester, and viscose. There are many different fabric types like borg, fleece, velvet, corduroy, jersey, gabardine, tricot, tulle, batik, terry cloth, and all kinds of other fabrics. And of course, fabrics adjusted to the season. For example, in wintertime, you can buy fabric to make winter coats and Christmas tablecloths
Leather and fur
Pieces of leather and fur, real and fake, if it's the right season both are for sale at this market.
People from all over Holland come to visit this fabric market. The market is also very popular with fashion design students from the University of Arts in Utrecht. Moroccan woman from North Africa loves this market for glitter and shiny fabric. They make the most beautiful dresses from these fabrics.
Trendy art fabrics
A new trend is fabrics, panels based on world-famous paintings artist, and panels with striking and particularly colorful designs. For example "The Kiss" by the Austrian painter Gustav Klimt. These art and trendy fabrics are suitable for adults and children. The fabric wholesaler is Stenzo. Stenzo stands for good quality and is a trendsetter in design. These top-quality fabrics are for sale by multiple online webshops. If you Google on Stenzo you will find many shops.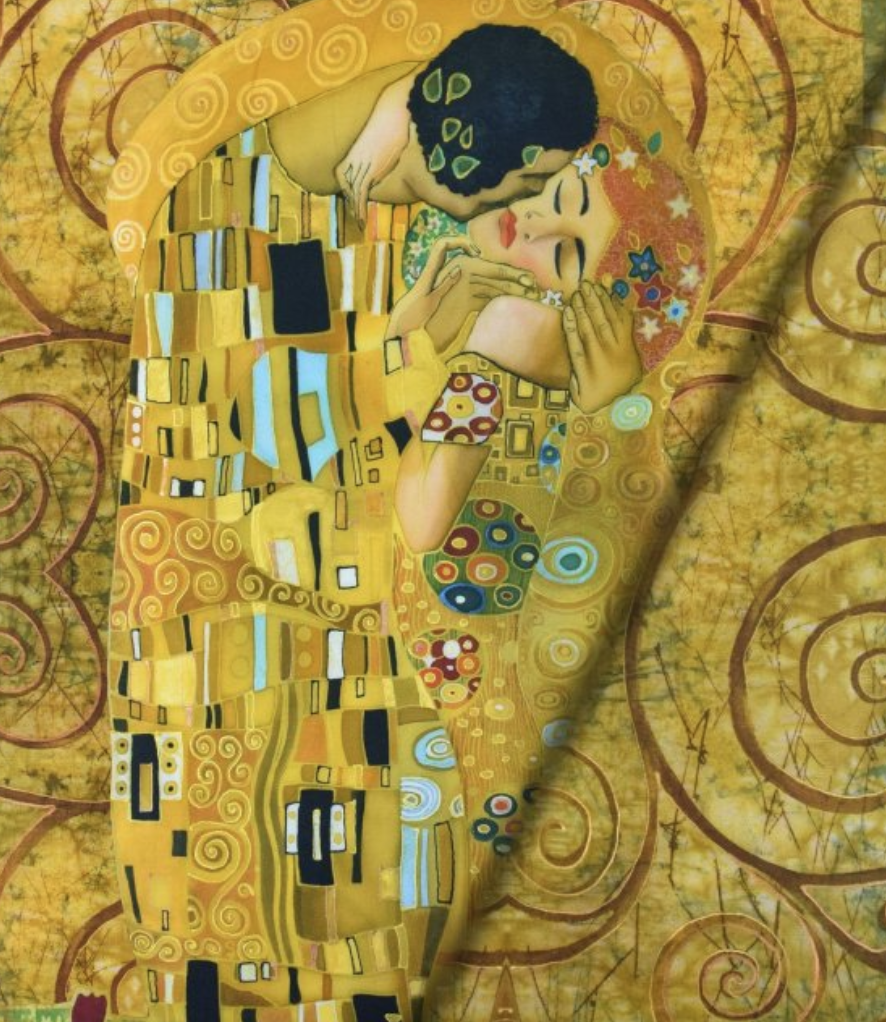 Haberdashery
For processing the fabric you need sewing goods. So market stalls with lots of haberdashery essentials for sewing the materials are present. Material such as needles, yarn, zippers, buttons, lace and ribbons, toy filling, and other tools are for sale in specialized market stands.
If you want to know more about markets and shopping in Holland check this: