A lot of Dutch people are great admirers of Hundertwasser's work, both his paintings and his beautiful colorful buildings. Friedensreich Hundertwasser was an idealist, world-famous for his outspoken ideas against rectilinearity, and his love for colorful and organic buildings.
Hundertwasser was born in Austria as Friedrich Stowasser, he lived from 1928 to 2000. Friedrich grew up alone with his mother, who instilled in him a love for paintings and nature. He did not like school and preferred to go his own way. He learned the Russian language and found out that STO meant 100. From this moment on, Friedrich called himself Hundertwasser. He also changed his name Friedrich to Friedensreich and added Regentag. Hundertwasser liked to paint on rainy days because colors became more beautiful and glossier, so he added Regentag (Rain Day) to his name. You could say Hundertwasser was a champion of a people-friendly and environmentally friendly construction method.
Hundertwasser, you love it or you hate it. I and many Dutch people with me are big fans of Hundertwasser's work of art.
Hundertwasser and Gaudi
Hundertwasser was a great admirer from Antoni Gaudi. Gaudi's philosophy was based on three aspects: religion, nature, and architecture. These aspects were reflected in his buildings. Gaudi opposed conventional bland architecture and created an architecture that was closer to nature, without unnatural straight lines but with bright colors and whimsical shapes. followed him in the aspect of nature. Hundertwasser painted and designed buildings from an ergonomically curved and ecologically point of view, he strongly believed that people and nature should form the cityscape together. He hated straight concrete buildings and turned them into organic buildings with lots of nature all around and trees on roofs and out windows. One of his famous sayings is: Straight lines are deadlines, curved lines are more vibrant and healthier to live in. Hundertwasser believed that every person is responsible for himself, his fellow man, society, the houses in which we live, and the care for nature.
An eager to learn world traveler
From the 1950s, Hundertwasser traveled extensively and made extensive study trips to Paris, Marrakech, Tangier, Tunisia, Italy, and Spain. Later he also traveled to Japan and New Zealand where he bought a large tract of land and built a self-sufficient farm.
Hundertwasser and Van Gogh
Out of respect and admiration for the work of Vincent van Gogh, Friedensreich Hundertwasser painted the fantastically beautiful painting "Hommage a Van Gogh". The original painting hangs in the Kunst House in Vienna.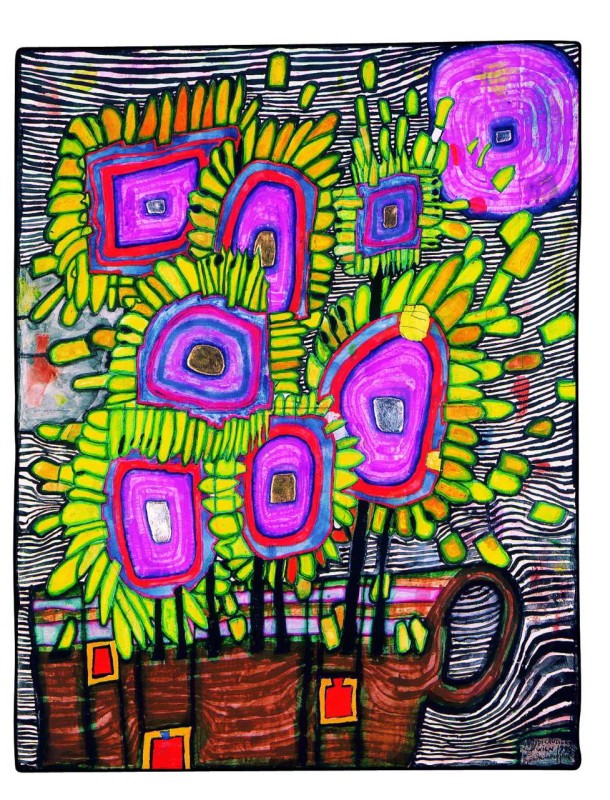 Hundertwasser buildings in the Netherland
Ronald Mc Donald house, de Regenboogspiraal in Valkenburg
The Rainbow Spiral or so we say "De Regenboogspiriaal", is the Ronald McDonald house in Valkenburg. This is on this moment the only Hundertwasser building in the Netherlands. The Ronald McDonald Children's Valley was opened in 2007. In his designs, Hundertwasser opted for natural shapes such as a ring, spiral, or the meander shape of a river. He assumed that these forms promoted human health.
The office building at the Stegge in Goor
An unexpected architectural masterpiece is located in an industrial area in Goor. This building is a fictional Hundertwasser building. The head office of the contractor 'Aan de Stegge' was built in the spirit of Hundertwasser and is, therefore, the colorful pearl of the town of Goor.
Daycare house in our Green Heart
For some time now, there has been a plan to realize a building at the village Zoeterwoudedorp designed by the Friedensreich Hundertwasser for residents of a residential community. The idea is to build a daycare building for people with intellectual disabilities. If this will be successful will depend, among other things, on financial possibilities. This would be the third Hundertwasser building in the Netherlands.
Hundertwasser expositions in the Netherlands
Amsterdam Light festival Hundertwasser
The Light Art Museum Fabrique des Lumières has recently opened in the Zuiveringshal on Westergasfabric in Amsterdam. Works of art by Friedensreich Hundertwasser are projected in this light factory, this is an interpretation of his wonderfully colorful works of art. Hundertwasser. It is an absolute must to visit this new tourist phenomenon in Amsterdam West.
Unfortunately, sadly to say but there are currently no works by Hundertwasser to admire in the Netherlands, at least as far as I know. The Kunsthal in Rotterdam and the Cobra Museum in Amsterdam have previously organized a major exhibition of Hundertwasser's works. But I hope that will change soon. In the end, you never know.
Hundertwasser Museum Vienna
If you make a tour around Europe and by any chance, it's possible to go to Vienna, make sure you visit the Hundertwasser House and Hundertwasser Museum in Vienna.