Max Verstappen is a Dutch racing driver who competes in Formula 1. Born on September 30, 1997, he is considered one of the most promising talents in the sport. Max Verstappen made his F1 debut in 2015 at the age of 17, becoming the youngest driver to start a Formula 1 race. He is known for his aggressive driving style, exceptional overtaking skills, and impressive performances with the Red Bull Racing team. Verstappen's success and rivalry with other top drivers have made him a central figure in modern Formula 1 racing, and he enjoys a massive following from his home country of the Netherlands and around the world.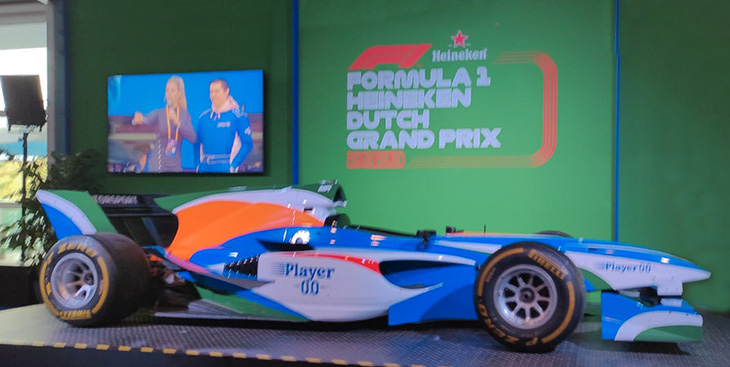 Exceptional driving skills, a born winner, Max Verstappen
In the Netherlands, we all love and admire Max Verstappen for his outstanding achievements on the racing circuit.

Max Verstappen is widely recognized for his exceptional talent and remarkable achievements in the world of Formula 1 racing. Born on September 30, 1997, in Belgium, he holds Dutch nationality and has been a key figure in the sport since his debut. Here's something nice about him:
Max Verstappen's driving skills and aggressive racing style have made him one of the most exciting and dynamic drivers on the Formula 1 grid. He gained international attention when he made his debut with Scuderia Toro Rosso (now AlphaTauri) in 2015 at just 17 years old, becoming the youngest driver to compete in Formula 1 at that time. His fearlessness, determination, and remarkable ability to handle high-pressure situations have consistently led to thrilling on-track performances.
Over the years, Max Verstappen has shown remarkable growth and maturity, both as a driver and as a person. He's known for his dedication to improving his craft and working closely with his team to achieve the best possible results. His strong work ethic and willingness to learn from each experience have contributed to his consistent presence at the forefront of the Formula 1 championship battles.
Verstappen's positive sportsmanship and interactions with fans also stand out. He's known for his friendly demeanor and willingness to engage with supporters, whether it's through autograph sessions, interviews, or social media. This openness and approachability have helped him garner a massive and passionate fan base around the world.
In essence, Max Verstappen's exceptional driving skills, his commitment to self-improvement, and his personable nature make him a beloved figure in the world of Motorsports.
Program Grand Prix Zandvoort 2023
The drivers Lewis Hamilton, Max Verstappen, and teams like Mercedes and Red Bull Racing are strong contenders in Formula 1 races.
Friday 25 August, Saturday 26 August, and Sunday 27 August
Results 2nd free practice Zandvoort 2023
01. Norris
02. Verstappen
03. Albon
04. Hamilton
05. Tsunoda
06. Gasly
07. Pérez
08. Stroll
09. Bottas
10. Alonso
→ View here the complete program Grand Prix Formula 1 Zandvoort 2023
Grand Prix Formula 1, Circuit Zandvoort
Every year, the end of August, is the weekend of the Grand Prix Formula 1 at Zandvoort. This is a prestigious motorsport event held at Circuit Zandvoort in the Netherlands. The circuit has a rich history in Formula 1, having hosted races in the past, and it was reintroduced to the F1 calendar in 2021 after a long absence. The track is known for its challenging layout with elevation changes and fast corners, making it a favorite among drivers and fans alike.
The track first hosted a Formula 1 Grand Prix in 1952 and continued to be a regular venue on the Formula 1 calendar for several years. However, due to various reasons including safety concerns and financial issues, the circuit was eventually dropped from the Formula 1 calendar after the 1985 season.
In recent years, there has been a renewed interest in bringing back the Dutch Grand Prix to Zandvoort. After extensive renovations and improvements to the circuit, Formula 1 returned to Zandvoort in 2021 for the first time in 36 years. The track modifications were made to meet modern safety standards while preserving its classic character.
As for favorites in Formula 1, driver and team performance can vary greatly from race to race and season to season. Factors such as car development, driver skills, team strategies, and even weather conditions can influence the outcome of a race. Therefore, the favorite to win a specific race or the championship can change frequently based on these factors.
➔ Everything you always wanted to know about the Dutch Grand Prix, F1 Sprint, and other F1 cars and their drivers.