Ramadan has started and we wish all Muslims, Ramadan Mubarak. In 2023, Ramadan starts on Wednesday, March 22, and lasts until April 20. During Ramadan, Muslims fast between sunrise and sunset. The purpose of fasting is to become more mindful and patient. Moreover, fasting is taught to feel what life can be like for people less fortunate than you, myself, and I. Fasting makes one feel the value of food.
Ramadan is not only about fasting, eating, and drinking but also about family and relatives, and about being extra kind and helpful to others. Just like not eating and not drinking during sunlight, lying, cursing, smoking, and having sex are not done during Ramadan. Ramadan is seen as a fight against your own ego. It is a time of reflection.
What to say to a Muslim during Ramadan?
You do wish a Muslim a good Ramadan by saying "Ramadan Mubarak", "Ramadan Kareem," or just "Happy Ramadan'.
Work and school during Ramadan
Children up to puberty do not fast. Ramadan is discussed and taken into account in many primary schools. Students and teachers are doing their best to empathize with Ramadan. In some schools, there is a separate room for Muslim children to spend the break or to pray. Eid ul-Fitr is not a regular national holiday or day off. However, schools can decide about three free off days for themselves. So most primary schools do plan a day off at Eid ul-Fitr.
In the Netherlands, there are about 50 Islamic primary schools and 3 Islamic schools for secondary education.
➔ Ramadan in a common primary school
Children go to sleep late and get up early during Ramadan and this can affect their performance in school. It might happen that Ramadan falls during exam time. Secondary education, secondary schools, and universities deal with this differently.
Celebrating Ramadan at Work
As an employee, you can just fast the way you like. There is freedom of religion in the Netherlands. Employers cannot force a Muslim to eat unless they can prove that fasting makes the workplace unsafe. Employers do not owe their Muslim employees extra employment conditions or adjustments to work, times, or places during Ramadan, nor do they have to make a room available for prayer. But most employers are quite involved with their Muslim employees and offer them all the space they need.
Iftar, a good moment to get acquainted with Islam
Iftar is the breaking of fasting and it also refers to the meal eaten by Muslims immediately after sunset. At sunset family and acquaintances gather and eat together. Generally, as a starter very sweet pastries are consumed to regain quick energy. Meals can extend over hours as one should not eat hastily because of an empty stomach. In the Netherlands, the iftar is used by various mosques and organizations to bring Muslims together but often non-Muslims participate in this joint dish as well.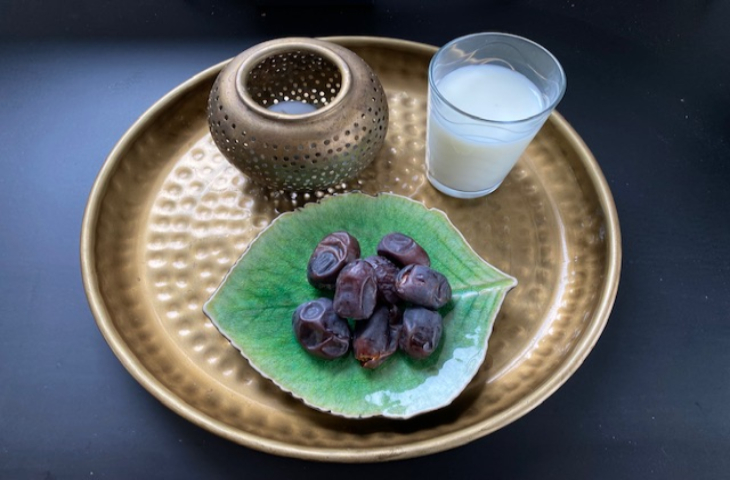 Join Ramadan's daily Iftar and enjoy traditional dishes and drinks
At iftar, Muslims serve traditional dishes and drinks. Ladies spend hours in the kitchen preparing these dishes. Harira a thick soup of chickpeas, lamb, onions, and lentils is a North African dish. In the Arabian Peninsula at iftar dates are eaten and coffee is drunk. In Turkey, olives are eaten and tea is drunk. In Pakistan often milk drinks are drunk combined with fruit.

➔ Iftar, join in, everybody is welcome, eating together connects.
This well-known supermarket chain organizes 5 iftars where everybody is welcome to join in. The motto is good food together at the table feeds the most beautiful conversations and moments in life. The Iftar meal is prepared and served by the store employees and volunteers.
Ramadan ends with Eid ul-Fitr
Ramadan ends with Eid ul-Fitr, In the Netherlands, we call this day "The Sugar Feast".It is also called the Festival of Breaking the Fast.
-229
Days
-21
Hours
-35
Minutes
-16
Seconds
Countdown until next Ramadan
94
Days
09
Hours
28
Minutes
44
Seconds
➔ When is Ramadan started?
Ramadan is determined on the basis of the lunar calendar and therefore the date of Ramadan differs every year. Eid ul Fitr is the end of Ramadan and therefore falls on a different date every year. Ramadan is celebrated in the ninth month of the Islamic calendar.
➔ When is Eid ul-Fitr?
Eid ul-Fitr is also called the Festival of Break of the vast, or so they say in Dutch "Suikerfeest", best translated as "Sugar Feast"
Islam in the Netherlands
In 2023, almost one million Muslims will live in the Netherlands. The Muslim community constitutes 5.1% In terms of numbers, there are relatively few Muslims in the Netherlands. Islam is the second-largest religion after Christianity. The Netherlands has traditionally been a Christian country.
Dutch Central Bureau of Statistics
According to the Dutch central bureau of statistics, in 2023 more than half, about 55 percent, of Dutch people aged 15 or older will not be religious. In the Netherlands, religious involvement has continued to decline in recent years.
Freedom of religion and belief
In the Netherlands, you are free to follow any religion or no religion at all. Everyone is free to choose a religion or belief and behave in a personal way. So far so good, but at least everyone has to act within the legal rules. The Netherlands is the most diverse religious country in Europe. Fifty percent of the Dutch population is registered as Christian, 42 percent has no religion and six percent is Muslim. In the early 1960s, many male guest workers from Islamic countries came to the Netherlands. Freedom of religion and belief is a major part of the Dutch Constitution.
Guest workers and family reunification
During the reconstruction after World War II, there was a huge shortage of low-skilled personnel. In Southern Europe, Morocco, and Turkey, workers were recruited and large groups of people came to the Netherlands to meet the high demand for labor. Initially, the guest workers would stay temporarily, but gradually family reunification started. Mainly Moroccan and Turkish people had their families come over to Holland. They integrated into Dutch society and introduced Islam into Dutch culture.
Pillars of Islam in the Netherlands
Muslims living in the Netherlands should live according to the five basic Islamic obligations. The five religious obligations are fasting in Ramadan, praying, going to Makkah, making the confession of faith, and giving gifts to the poor.
Christians are fasting until Easter
Christians also fast as they celebrate Lent. Lent is a time of fasting and reflection, a time to remember the love of God. Lent starts on Ash Wednesday, immediately after the Carnival, and Lent lasts for forty days and ends on Maundy Thursday. Maundy Thursday is the day of Christ's Last Supper, followed by Good Friday and Easter. Many Christians fast in one way or another during that period: they reduce or even stop completely with certain luxuries, such as meat, alcohol, or nowadays also with social media.
➔ Christian fasting, celebrating Lent until Easter