When it's almost Christmas time again, it's the right time to go to an awesome Winter Fair or Christmas Market. Luckily there are quite a few cozy Christmas markets and winter fairs in the Netherlands. When the winter holiday season arrives my heart starts beating faster. When every day gets colder, the shortest day approaches, and the streets are decorated with lights, my happiness can't end. To experience the ultimate Christmas feeling, of course, a Christmas tree is bought for the home and the Christmas decorations are taken from the attic.
Get presents and decorations at Christmas Fairs and Winter Markets
And just like in previous years, some new things need to go on the Christmas tree and Christmas presents have to be found. Where to find the perfect Christmas present? Of course at one of the funniest and coziest Christmas markets in the Netherlands. And if you're not just looking for a Christmas present, you can also get yourself a great Christmas outfit to chill out during Christmas.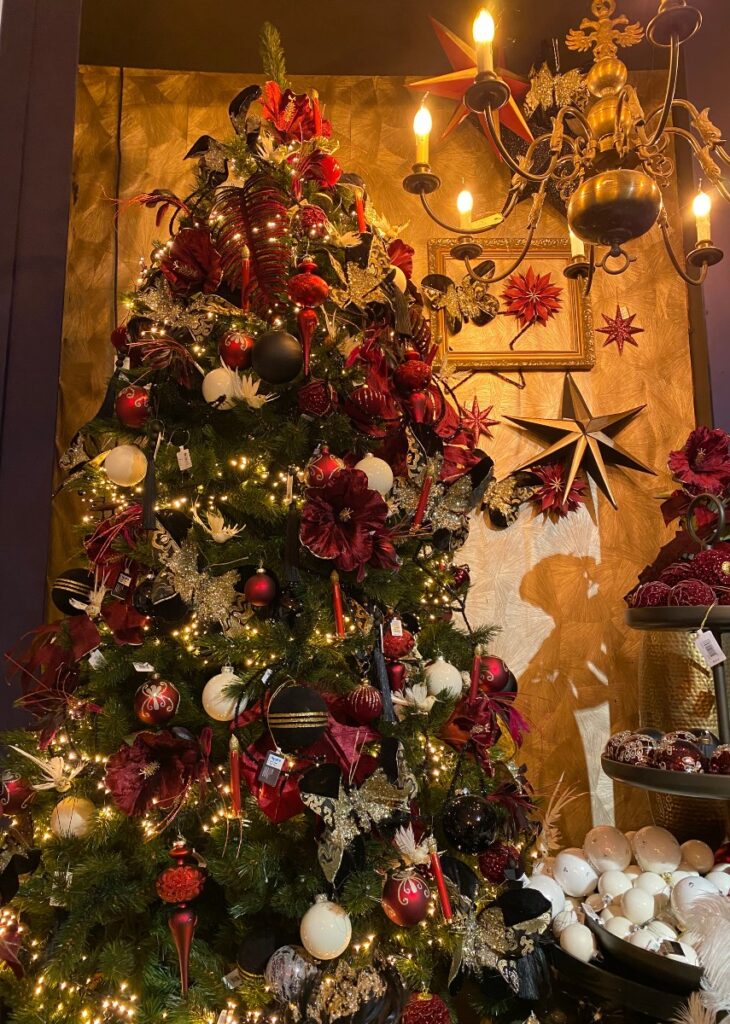 During November and December, numerous cozy winter fairs and Christmas markets can be found in the Netherlands. It's all about hot chocolate, crackling fire, and beautiful Christmas trees at these cozy Christmas markets. Nothing is more fun than that. But where to find these Christmas markets?
Ten Best Dutch Christmas Markets and awesome Winter Fairs
➔ Country and Christmas Fair Castle de Haar
Every year, the Country and Christmas fair is organized in late November at Castle de Haar. This winter fair lasts about one week and is all about Christmas, Christmas feelings, Christmas decorations, and Christmas shopping in the beautiful gardens surrounding Castle de Haar. I daresay this is the most beautiful and largest Christmas Market in the Netherlands. The gardens surrounding the castle are beautifully lit with lights and there are as many as 150 stalls filled with a wide variety of Christmas items. This Christmas fair lasts from 22 to 27 November.
➔ Christmas fair Maastricht
Several Christmas markets can be found in the south of the Netherlands in the province of Limburg. Valkenburg, Maastricht, and Aachen in Germany have Christmas markets you can visit. The Maastricht Christmas market offers atmospheric Christmas stalls with all kinds of delicacies, you can take a ride on the Ferris wheel and you can skate on an ice rink. The Christmas market in Aachen can be found just across the border in Germany. You can find this typical German Christmas market in the city center of Aachen. The Aachen Christmas market has many stalls where you can eat typical German Sausage rolls and drink Gluhwein. From 1 to 30 December 2022
➔ Where to stay? Welcome to the Monestry Hotel, book here your stay at the Monestry Hotel
➔ Christmas fair, Christmas caves
The historic city of Valkenburg is completely transformed into a Christmas city during the holidays. The streets are attractively lit. You can enjoy a mug of hot chocolate or mulled wine on the heated terraces. In addition to an outdoor Christmas market, Valkenburg has several cave systems and two underground Christmas markets. The Christmas markets are in the Municipal Cave and the Velvet Cave. The Christmas market in the Gemeentegrot is the largest underground Christmas market in Europe! The Velvet Cave is slightly smaller compared to the municipal cave, but it is still great to visit. In the caves of Valkenburg, you can find atmospheric stands and catering establishments. Valkenburg is highly recommended.
From November 18, 2022, to January 8, 2023e
➔ Dickensfestijn Deventer
Deventer is the city of Dickens's celebrations, where the stories from Dickens come to life.
Everything about Dickens is from 8 to 16 December 2022
The Dickens Walk is from 6 to 30 December 2022
Dickens Festival is on the weekend of 10 and 11 December 2022
The Dickens Festival is more than fantastic it's all about Dickens stories. More than 950 characters from the famous books of this English writer come to life in the historic city of Deventer, from Scrooge to Oliver Twist, from Mr. Pickwick to Christmas Carol Singers, from orphans to office clerks and distinguished figures. Admission is free.
➔ Swedish Christmas Fair Groningen
At the former sugar factory in the city of Groningen is a grand Swedish Christmas Fair, the biggest Christmas event in the North of the Netherlands. Being at the Swedish Christmas Market exhibitors with natural and handmade products and there is a lot of good food and great music. The Swedish Christmas fair is on 10 and 11 December 2022
➔ Book here your stay in a nice hotel or B&B in the city of Groningen
➔ Check here the winter and Christmas fairs in Friesland ⬌ 1 till 30 December 2022
You will find various attractive Christmas markets in the large and smaller towns in beautiful Friesland. The winter markets will be decorated with fire baskets, illuminated Christmas trees, and cozy stalls with Christmas items to form a beautiful backdrop to prepare for a fantastic Christmas.
➔ Country & Christmas Fair, Castle de Haar ⬌ 22- 27 November 2022
➔ Magical Christmas Fair Castle De Haar ⬌ 8 December 2022 t/m 5 January 2023
➔ Christmas Fairs Apeldoorn ⬌ 16 November- 30 December 2022
➔ Spirit of Winter, Paleis het Loo ⬌ 16 – 20 November 2022
➔ Winter Fair Beekbergen ⬌ 25 – 27 November 2022
➔ Christmas Market 'Natuurlijk' – Botanical garden Pinetum Blijdenstein Hilversum ⬌ 11 December, 2022
➔ Christmas fair – Winter Wonderland – Zeist ⬌ 11 December 2022
➔ Proud Christmas Fair Special – Kasteel Groeneveld, Baarn ⬌ 10 and 11 December 2022
On the website Kerstfee, you will find a good overview of Christmas fairs organized in the Netherlands. Do you feel like Christmas Shopping. Get to one of these awesome Christmas fairs.
What to eat and drink at a Christmas fair or Winter Market in the Netherlands
Gluhwein and hot chocolate, are two deliciously fragrant and classically tasty Christmas drinks. Surely, these two hot drinks are the most common to warm up on a cold Christmas Market evening when frost is biting the air. If you want to taste the ultimate Christmas atmosphere at a Christmas market drink a glass of deliciously spiced hot mulled wine. You can easily make mulled wine yourself as well, take a liter of red wine, add 2-star anise, 3 cloves, 2 sticks of cinnamon, 1 orange and 1 lemon sliced, and a little sugar. Heat everything over a low heating source for 30-40 minutes and serve the hot wine in a nice high glass.
Poffertjes, an old Dutch delicacy of baby pancakes
On almost every Christmas fair is a Poffertjes stand or Poffertjes Food truck. Poffertjes is a Dutch culinary specialty you could compare with a mini or baby pancake served with powdered sugar and creamy butter. Children love it and adults adore them. Poffertjes reminds you of the good old days, they bring back good memories. They are best eaten freshly made. To make the poffertjes at home we have a nice recipe for you ➔ Recipe homemade Dutch poffertjes