Blossom trees are a beautiful sight in the Netherlands during the spring season. The most popular flowering trees in the country are cherry blossoms, magnolias, and apple trees.
Blossom, a veritable sea of ​​flowers, an exuberant splendor of flowers.
What an overwhelming, eye-catching, beautiful face. All those different types of blossom. Flowering trees with blossoms in various shades of pink and white. When the sun shines and the wind blows blossoms gently from the trees. Blossom petals flutter in the sky, then it looks like it's snowing. How awesome is that?
Happy trees that stand in the right ground in the right spot will give a fantastic display of flowers.
➔ The most colorful and beautiful blossom routes in the Netherlands
Top of the most beautiful flowering blossom trees in the Netherlands
1. Pear tree Blossom
Pear, Pyrus communis.
The pear is one of the most beautiful fruit trees. In April the branches are showered with white blossom, and from the end of August the delicious fruits ripen.
In Dutch we say "Peer".
2. Japan's Cherry Tree Blossom
Japan's flowering cherry, Prunus serrulata.
The most striking blossom tree, it blooms in April-May.
In Dutch we say "Japanse Kersenboom".
3. Hawthorn tree
Hawthorn, Crataegus laevigata 'Paul's Scarlet'.
A slow-growing tree to about 4 meters, the small pink-red flowers appear in June and sit in dense corymbs.
In Dutch we say "Meidoorn".
4. Quince, a forgotten fruit
Quince, Cydonia oblonga.
A shrub or small flowering tree with large red flowers in April-May. Yellow, pear-shaped fruits ripen in September and October. In the Netherlands, a Quince is not a commonly eatable fruit, it s a bit of a forgotten fruit. Quince is great for making jellies, jams, and other preserves, such as the Spanish quince paste, membrillo. The yellow fruits of the quince are beautiful and have a wonderfully aromatic, honeyed scent.
In Dutch we say "Kweepeer".
5. Apple tree
Ornamental apple, Malus floribunda.
A small tree with gracefully arching branches, pale pink flowers in April-May. Get small greenish-yellow apples with a red blush in late summer. The three most popular Dutch apple varieties are Elstar, Goudreinet and Jonagold.
In Dutch we say "Appel".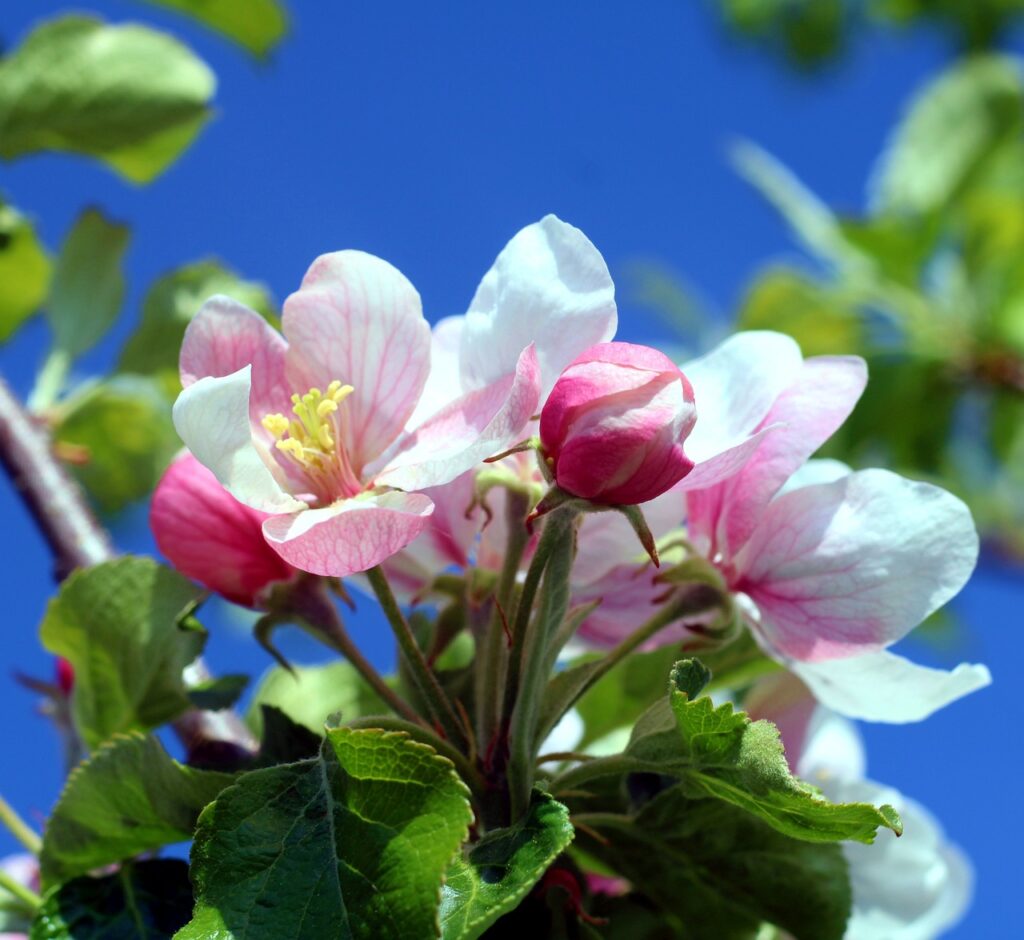 6. Plume tree
Prunus domestica.
Plume trees are very popular. It is an easy-growing tree. A plum tree is easy to maintain and has beautiful white blossoms. A fruit tree that produces the most delicious plums. A plum tree in your garden attracts many insects due to its sweet scent. Well-known Dutch plum varieties are Reine Victoria, Reine Claude, and Opal.
In Dutch we say "Pruim".
7. Judas tree
Judas tree – Cercis siliquastrum
The purple butterfly flowers sit on short stems in April-May, almost directly on the still bare branches. Purple-tinted pods follow in late summer. The Judas tree is a spectacular blossoming tree. When this tree gets lots of sun it will flower very well.
In Dutch we say "Judas Boom".
8. Japanese Dogwood
Japanese Dogwood, Cornus kousa.
In May-June, the dogwood is a real eye-catcher in the garden thanks to the large white or pink bracts. Later raspberry-like fruits.
In Dutch we say " Japanse Kornoelje"
9. Magnolia tree
Magnolia, flowers from March till April-May. The magnolia needs a sunny place where it will flower lavishly. The magnolia flower colors range from pure white through pink to deep magenta and dark purple.  The magnolia tree is a slow-growing tree. In the Gimborn Arboretum near the village of Doorn, there are an overwhelming amount of majestic magnolia trees. Magnolia trees in all sizes and types, from small to large, and with different colored flowers.
In Dutch we say "Magnolia".
Japanese winter cherry
Many people think that trees only bloom in springtime. Of course, it is nonsense that trees only bloom in spring. Actually, there are flowering trees in every season. There are even flowering trees in winter. One of these beautiful winter bloomers is the Japanese winter cherry. This ornamental tree starts flowering in November and continues to bloom until April. Only when it freezes, does the Japanese ornamental cherry stops blooming. After the frost, this ornamental tree continues to flower.