Every year on an October Sunday there is a great run In Utrecht: "The Singelloop". Quite a running party and really happy event, so to say. The word "Singelloop" can be translated into "Canal Run. The Singelloop Utrecht is a run through the great historical center of the city of Utrecht and is the oldest street run in the Netherlands.

With thousands of participants of different ages we daresay it's a run for young and old sports enthusiasts. In the Singelloop there are four running tracks with different distances. So there is a suitable part for everyone.
The 10 km Singelloop Utrecht
The Nedal UBN Singelloop Utrecht 5 km
The Kids Run 2.5 km
The Kids Run 1 km.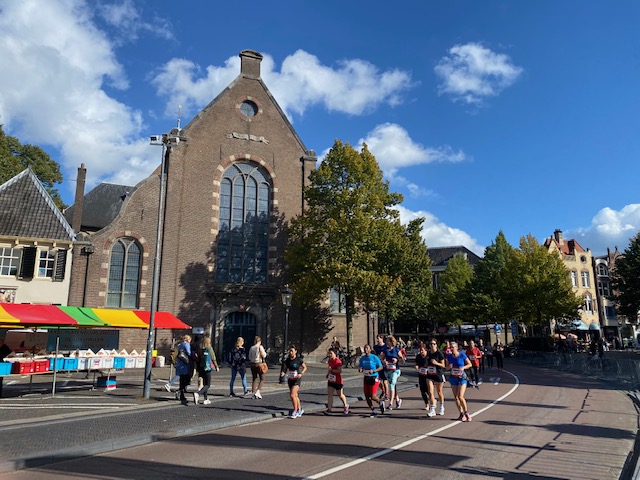 Kids run Singelloop Utrecht | 1 and 2,5 km
For the youngest, aged from 4 to 8 years, there is the "Kids Run" a running track of 1 km.
Kids aged between 8 to 12 years do a Kids Run of 2,5 km.
When registering your kid for a run, a coach number is included.
After finishing the Utrecht Singelloop your child receives the highly sought-after Utrecht Singelloop medal.
Nedal Aluminum Singelloop Utrecht | 5 km
Nedal Aluminum is one of the main sponsors of the annual Singelloop Utrecht. In 2022 the 70th edition will be run. Nedal UBN 5 km Singelloop Utrecht offers a beautiful course through the city center. Walk with family, friends, and colleagues to enjoy the unique atmosphere and the beauty of Utrecht.
Run 10 km against cancer
In 2022, the theme of the 10 km sponsored run is "Run against Cancer". The money raised goes to groundbreaking cancer research. In 2022, almost 200,000 Euros are raised.
Utrecht Singelloop | National and International
The Utrecht Singelloop is nationally and internationally known as a unique running event. This street run has a super fast course, an excellent innovative organization, and a lovely yearly growing enthusiastic audience along the course leading through the unique atmosphere of the city center of Utrecht. The stately Maliebaan, the monumental Wilhelminapark, and the beautiful canals are awesome Utrecht locations contributing their charm to the special atmosphere of this event. If you like to participate in the Singelloop Utrecht, you have to register: Sign up for the Singelloop Utrecht
History of the Singelloop Utrecht
The first Singelloop held in 1925 was an initiative of the Utrecht resident Nico Munzert. The first race followed the banks of the canals through Utrecht. Only 100 participants finished the Run. But the crowd of spectators was immense with more than 75,000 cheering people along the track. The length of the race was increased to the present 10 km in 1937.